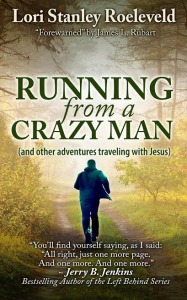 You're restless.
Trouble has you gasping beside the narrow road.
This book is your invitation back to the adventure.
Endorsements by Jerry B. Jenkins and James L. Rubart:
"So you were hoping for a cheery devotional that would warm your heart, put a grin on your face, and remind you to count your blessings as you climb, climb up sunshine mountain as heavenly breezes blow?  Guess what? You picked up the wrong book.
On the other hand, I'll bet you can't read just one of Lori's bite-sized reflections. There's plenty of sugar to help the medicine go down. Just when you peek ahead and think, I'm-not-sure-I-want-to-face-this-particular-truth, you remember that the last time you thought that, Lori made it palatable with just the right dash of humor or pathos or ah-ha.  Then you'll find yourself doing as I did: saying, all right, just one more. And one more. And one more." — Jerry B. Jenkins, Bestselling author of the Left Behind Series.
"WARNING: If you're into tickled ears and cotton candy Christianity, this book ain't going to be your thing. But if you long for the richness that is in Jesus, if you're willing to go to the sometimes painful places because you believe the freedom on the other side is worth it, if you want a whole-ly kind of Holiness in your life, dive in. The bodies of water Lori explores will fill you to overflowing. Get ready. For tears. For laughter. For comfort. For great hope. And for a journey that will take you deeper into the kingdom than you've probably ever gone." James L. Rubart, bestselling author of Rooms (http://jameslrubart.com/)

From the Back Cover:
Some Christians leave their relationship with God in a sealed box like a collectible that will be worth something "someday." Not you. You wholeheartedly answered the call to follow Jesus.
Then, something happened. Now you're gasping beside the narrow road. You thought you were on the God adventure but suddenly it feels as if all you're doing is running from a crazy man. Still, you seek the strength to continue the journey.
This isn't reading for the happily comfortable. These are words for the restless Jesus lover, the longsuffering disciple, the openhearted believer. Be forewarned. The challenges inside are designed to unsettle as well as to incite you to relish the narrow road even when trouble is your travel companion.
Running from a Crazy Man (and Other Adventures Traveling with Jesus) is a siren call to the modern believer that the God-adventure can happen even when, like King David, you're running from a crazy man. 
Available now wherever fine books are sold