When No One Else Gets What You're Doing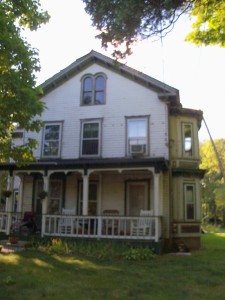 Does your life mystify others?
Do you see head tilts, raised eyebrows, or furrowed brows while describing a challenge you've taken on, a ministry you've entered, or a choice you've prayerfully made?
In other words, do you have a vision for something that others cannot see?
My husband is redeeming a house from condemnation – and he's making me live in it as he does it.
It's horrible for a homemaker to live inside a construction project but the upside is being wed to a man who sees the potential in a wreck. When I look at our house, that's what I see. A wreck. My husband has a vision for what it will be. He lives here with joy because in his mind, it's already there.
He sacrifices, works long hours, and makes the crazy choice to live with rooms sans walls, ceilings, or floors (for like, a really – really – really long time) because he has a vision for the result. I live in it with him for the same reason except that my vision is not for the house but for a marriage and a life, that honors God.
I understand about building towards a vision no one else can see.
Every Christian builds toward an eternal future. Each sacrifice, unseen act of obedience, step of faith, or act of devotion contributes toward a vision that often only Jesus can see for us. I trust that when I move closer toward the freedom I have in Christ, He sets another stone in the fireplace of my room in heaven. Every act of obedience adds a floorboard. Every time I trust Him enough to set aside my comfort for His adventure, He sets a beam in place in my great room. And I receive, not only the promise of reward in heaven but access to the eternal life now as I engage in the adventure of following Jesus.
When others look at my life, they don't always get it. What they see looks incomplete. It can appear random. Parts even seem unredeemable. I notice raised eyebrows, quizzical concern, wide-eyed wonder at some decisions – and it used to get to me.
Not anymore. The closer I get to Jesus, the greater view I have of the vision of a future that spreads out eternally with Him. What other people think, matters less and less. What matters is the material with which I'm building and the joy of working with a Master Craftsman.
Noah saw the vision. He endured rejection, scorn, and jeers of those who suffered from a failure of imagination and faith. He saw the vision through to the end, working alongside our Creator God.
Noah was like us, you know. He got tired. He was tempted to give up. He experienced pressure to second-guess what he'd heard from God, to compromise, or to abandon the work all together. Anyone aiming to build an eternal life will be similarly tempted. But he endured.
Some of you have huge dreams – reach an unreached people with the gospel, write a message that touches millions, found a mission that transforms thousands of lives. Others of you have quieter but no less powerful visions – raise a family that honors Jesus, forgive the people who nearly crippled you in childhood, represent Jesus well at your place of work. Large or small – the temptations are ever present, the labor creates the same amount of sweat, and the reward for persevering will be just as sweet. The blessing is not in the size of the vision but in the ecstasy of accessing our eternal life on this side of glory.
Paul said this to the Philippians: "And I am sure of this, that he who began a good work in you will bring it to completion at the day of Jesus Christ." Philippians 1:6 (ESV) That excites me. Because as I build toward the vision Christ has given me, He is building the vision that is me. I was an idea He felt worth creating and He'll keep working until I am complete.
If you're tired, tempted to quit, discouraged or disheartened, you need to write that verse in a place where you can see it, memorize it, and trust it.
Don't give in. Be like Noah. Be like my husband. Be like Jesus as He works on me. While I live in a wreck, He has also chosen to live in the wreck that is me – redeeming this old soul from condemnation, restoring me to my former glory, and creating a home within my heart where He can dwell.
I'll let you in on a secret. Noah's greatest building project was not the Ark. The greatest thing Noah built was His walk of faith with God. My husband's greatest building project isn't this house, it's his vision for a way of life he's modeling for the generation yet to come.
Persevere. Make tough choices. Choose the narrow road less traveled. Lay another brick on the wall of the vision of your eternal home and know that while others may roll their eyes, Jesus has His eyes on you, loved ones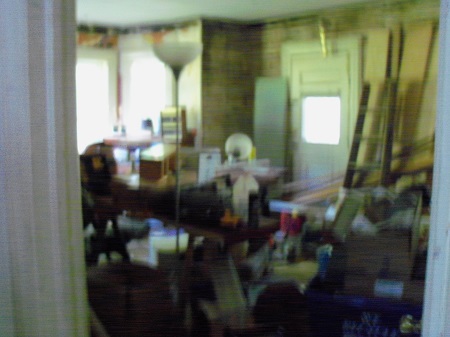 This is a blurry photo of my actual living room – and it has looked this way for four years now. (lest you think I exaggerate about the house.)
Do you need prayer because you're faltering as you work toward your vision? Leave a comment below or on my contact page. Or, invite me to your church home and let me encourage your women's group or Bible study group in person.