What I Won't Do for God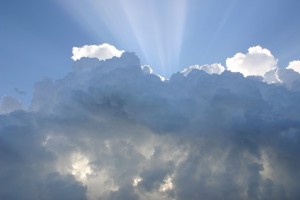 How do you distinguish yourself as a follower of Jesus Christ?
Do you distinguish yourself by what you don't do (don't swear, don't drink, don't have sex outside of marriage, don't cheat, don't lie)?
Or by what you do (forgive, love your enemies, serve others before yourself, worship God regularly, give sacrificially, speak the truth at all times, try to live like Jesus.)?
These are important questions.
When I work with teens, I try to challenge them not to define their faith by what they DON'T do.
Do they not drink? not do drugs? not swear? not have premarital sex? That's all great and it can be a considerable challenge not to do those things in a culture that does but in reality, that's kindergarten Christianity.
Better than just NOT doing things for God, I challenge my teens to expand their faith by defining themselves by what they DO because of Jesus. Do they reach out to kids who are ostracized by others? Do they love the unlovable people? Do they express gratitude to people in their lives? Do they forgive their parents? Do they dance with the fat girls and say kind words to the boys with acne?
Lately, I've read several blog posts by Christian writers who are trying to expand the definition of Christian fiction, Christian literature, Christian art.
These writers don't want their work defined by what they don't do for God (they don't write characters who swear, they don't write explicit sex scenes, they don't write gratuitous violence).
These writers are reaching for something beyond kindergarten Christianity. They want their work defined by what it does for God.
Christian fiction should elevate the art of literature to new heights.
Christian fiction should further the discussion of faith and life.
Christian fiction should inspire the reader to ask greater questions, to live a greater life, and to reach out for a greater understanding of God.
Christian fiction should redefine story so that all stories that are written are measured against Christian fiction.
It should lead the way. It should incite the conversation. It should encourage resistance to popular culture and an aversion to falsehood and evil. It should cultivate an appetite for truth and beauty that leaves the reader gasping for God.
There should be nothing safe or sanitized about Christian fiction. It should scandalize and scare anyone who is settling for less than the life they were created to live in Christ.
Christian fiction shouldn't create an escape for the reader, it should turn the reader's world upside down.
In the book of Acts, there is an incident in Thessalonica, when a group of town leaders were so upset by what Paul and Silas were teaching that they gathered a mob to search for them. When they couldn't find those two, they grabbed a man named Jason and some others – "And when they could not find them, they dragged Jason and some of the brothers before the city authorities, shouting, "These men who have turned the world upside down have come here also," Acts 17:6
These men who have turned the world upside down. Wow, right? When was the last time you turned the world upside down in your corner of the planet?
If we Christian writers were doing our job, we wouldn't have time to debate characters who swear – it wouldn't be an issue for readers either because they'd be busy forming mobs to drag us out of our houses for turning their world upside down.
If I want to write "nice" stories, I worry about things like stray curse words and closed bedroom doors.
If I want to write fiction worthy to be called Christian fiction, I take the discussion to an entirely different level – is my story dangerous enough, does it go far enough, does it represent Christ so well that it turns someone's world upside down?
That's the conversation I want to have.