The Trapdoor in Christ's Shoulder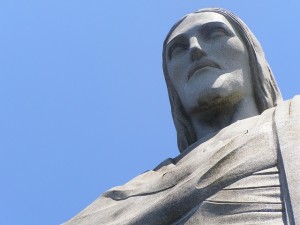 Children in healthy families have child-like worries.
Children in less healthy families worry about things that should be their parents' concern.
As children adopted into the family of Christ,
we retain old habits from when we lived with our former family
where we were burdened with concerns
we were never meant to bear.
Adjusting to life in Jesus' family
involves learning to trust Him with the greater issues,
adapting to being cared for by One who doesn't need direction,
and learning to listen carefully for our assignments
while releasing other concerns into His capable hands.
There are major things happening on this planet.
Missing jetliners.
Persecuted Christians.
Poor children without blankets.
Wars and rumors of wars.
And in your home there are things.
A prodigal child.
Bills you can't pay.
A burst water pipe.
The diagnosis you've feared.
Miscarriage. Betrayal. Loneliness. Lost love.
It feels as though everything depends on you
but how can that be
when you're so powerless over everything that matters?
And sometimes your relationship with God
doesn't feel like an easy yoke.
It feels more like an incredibly powerful tool
you could use to do amazing things
if you only had the time and brainpower to decipher the manual.
I wrestle with that.
What should I be doing about the persecuted church in North Korea,
the poor children in my town,
the wealthy neighbors who don't know Christ,
the ministry at my church,
and still keep up with the laundry,
keep my weight down,
spend time with my husband, parents, children, self
and earn money to pay the bills?
I was mulling this over
when I stumbled across a photo essay on the BBC news.
The first line caught my attention: "There is a trapdoor in Christ's right shoulder."
The essay explores the iconic statue of Christo Redentor, standing with arms outstretched over Brazil.
Religious statues make us Protestants nervous and I don't advocate idolatry or images of Christ
but Jesus used this photo essay to remind me of something.
When the photographer climbed the heights and finally gazed out from the doorway on the statue's shoulder,
the view was overwhelming,
too much to take in,
a perspective a human can only glimpse
because if it were the lens through which we watched the world every day,
we would wake up weary
and collapse before noon.
I think that's how it is for the children of God.
When we get a glimpse of the world through Jesus' eyes,
it can be overwhelming
but only until we remember
the government rests on His shoulders, not ours.
Jesus reigns.
We should wake every day and speak this truth to ourselves.
Be calmed by it.
Know our place is not to run the world
but to follow the One who does.
And then we should say, "He lives in me."
Reminding ourselves that with His Spirit within us,
we are capable of whatever He sets before us to do."
And then we should say, "Lord, lead me through this day."
Then, go with Him, fearlessly, wherever He leads,
with arms and eyes and hearts wide open.
I'm nobody. Truly.
A small time writer in a small town in the smallest state.
Last Friday, I spent the day seeking Jesus.
Moved by a news item out of South Korea, I posted my response.
That response has been read and prayed through over 800,000 times
and passed from believer to believer.
I'm still nobody.
I have no earthly power to effect change in North Korea
But I don't need the ear of Kim Jong-un
when I have the ear of the God of the Universe.
And when Jesus is behind it,
my voice can bounce off the satellites of heaven
to be heard around the world.
We don't need to be crushed by this world
Or imagine its troubles rest on our shoulders,
But remembering we serve the One who does rule
frees us to move past our paralysis
and myopia.
In exercising obedience to His Word, to His Voice, to His Call;
in accessing the power of the Holy Spirit,
in resting in Jesus Christ,
our influence can extend as far as His eye can see.
What is He saying to you today?
Open your arms, your eyes, your heart to Him
and extend your embrace, your reach beyond your wildest dreams.