The Smartest Person in the Room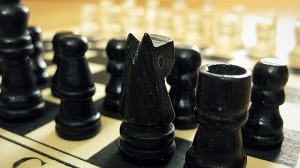 I always think I'm the smartest person in the room.
(That's a confession, not a boast.) And yet, even after a lifetime of following Jesus, I still miss the point.
Most of you who read this blog are educated thinkers who place a high value on an intelligent, reasonable faith. This is a good thing – right up until the moment that it's not.
Ten days ago, I began The God Challenge, issued by Chip MacGregor in his book, 40 Ways to Get Closer to God. Each day introduces one concept and an assignment. I started out with sincere intentions and I was patient with the process for, oh, four days. Then, I got itchy.
The author's writing is wonderful but I know this stuff already. I've got this. This one, too. Can I skip lessons? Do I get extra credit for finishing faster? Are there bonus points if I push through forty lessons in thirty-five days? These truths aren't anything new.

You get the gist of my internal monologue – I'm an idiot. (Yeah, I know. I thought I was better than this, too.)
Then, one, bright morning as I sat in my car sipping a coffee and reading that day's assignment, a thought occurred to me. Maybe results come not from the knowing but from the doing.
Oh, right. (The long arm of God reaches the back of my head, again.)
But the assignment that day was child's play. Make a list of everything for which I was thankful. Wow. That's deep, I thought. I know I'm supposed to be thankful. I think grateful thoughts. Do I actually have to make this list?
Then, somewhere on the tails of the sunrise, I heard God chuckle, I maybe even glimpsed Him running through a field waving to me as if to say, "Just come out and play, already, Lori."
So I did. I began to write. And I felt a shift in the force.
By the end of the list, I was weeping, big fat drops of joyful tears onto my journal as I remembered all that God has given me; saw the words overflowing the page. Maybe "child's play" is exactly what I need more of these days. Suddenly, I heard God's belly laugh ring out across the fields and I laughed with Him. And we were closer than we've been in a while.
Closer to God – what does that look like? We know we want it but do we have any idea what it involves?

I asked myself that question all that day – a day that didn't "magically" turn into a perfect day because of my time with Him. It was as demanding and draining as the one before except that I had the memory of that moment to call back to.
What did I imagine life would be like closer to God? Would I be all calm and Zen and admired for my wisdom and peace? Would I have insight into life that helped me solve problems? Would more of my prayers be answered? Would I have faith to move mountains and curse fig trees? Would I suddenly know how to talk to people about Jesus?
Do you see a disturbing pattern about these questions? They're all just variations of the question "What's in it for me?"
Sometimes, my brain is my biggest stumbling block.
God is worth knowing – period. That moment we shared in my car – that was pure joy. The wall between the worlds was thin and I felt myself a citizen of heaven. I performed the simple act of naming all that God has given me and expressing my gratitude for it and, in that act, I shared a moment with the God of the Universe.
There is a declaration in the Old Testament that Jesus repeats in the New Testament. "He answered, "'Love the Lord your God with all your heart and with all your soul and with all your strength and with all your mind.'" Luke 10:27a
Too often, I have a cerebral faith. I worship my understanding of God, my insight into scripture, or flashes of wisdom that hold the promise of moving my life forward. Each time I pick up a new book on Christian living, it's as if I'm yanking on the arm of a spiritual slot machine, thinking that one time, the intellectual cherries will all line up and the pay off will be a perfect, spiritual life.
I miss the point.
Something about the straightforward actions of the assignments in this book has stripped me of that illusion and reminded me of why I started this journey: I am in love with God.
It's not all in the knowing but also in the doing, the loving, and the being. He wants all of me.


I've spent a lot of time loving Him with my mind. That's not wrong, it's just incomplete. I also love Him with my heart. But He seeks, too, my soul and my strength. I think I've been withholding both by ignoring their value to Him.
Disciplines such as fasting or scripture memory exercise my strength. Serving others and expressing gratitude expand my soul.
In an old Star Trek episode, Captain Pike (pre-Kirk) encountered the Talosians. This was a race of people with vastly superior brains who had developed incredible intellectual powers. Captain Pike uses his "primitive human emotions" to prevent the Talosians from exploiting his mind and shows them that giant brains aren't always the answer to every problem.
Maybe what I need this week is a little less theology and a little more Star Trek. (Wait, did I say that out loud?)
God loves our minds and I still value an intelligent, reasonable faith but I can't forget that sometimes God is waiting to surprise me in the simple, quiet disciplines that require my heart, my soul, and my strength.
What does it look like to be closer to God? I'm hoping to find out. I may have to work muscles that have atrophied from disuse and do a little less reflecting, a lot more doing, and add some playing to my praying.
What are you learning from the God challenge? Are you ready to share?