Not What We Expected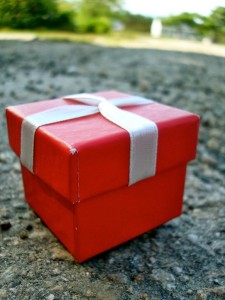 It was Christmas.
Rob and I had been planning our wedding for weeks
so the decision had been made
but still, I had no ring.
Under the tree
there was a gift the size and shape of a ring box.
No surprise there, really.
But when he presented it on Christmas morning
With all the anticipated "ta-da!"
It wasn't what I expected.
Oh, it was a ring
But it wasn't an engagement ring.
It was an amethyst and it was lovely
But it wasn't what I expected.
So it left me grateful but
Confused
Off- kilter
Thrown for a loop.
The Messiah, too, had long been expected
And the build up was like that of an anticipated super-hero.
He would come
And He would deliver them from all oppression
And lead them into glory.
When that kind of press precedes a guy
A certain expectation is built,
People get a picture in their heads
And that's what they look for.
Not a baby.
A baby isn't a deliverer
A baby doesn't save people
When trouble comes
 No one says, "Quick! Maybe the baby can get us out of this!"
It was clear from Isaiah that someone powerful was coming:
 "For every boot of the tramping warrior in battle tumult
and every garment rolled in blood
will be burned as fuel for the fire."
And God was clear the package that would arrive:
"For to us a child is born,
to us a son is given;
and the government shall be upon his shoulder,
and his name shall be called
Wonderful Counselor, Mighty God,
Everlasting Father, Prince of Peace" Isaiah 9:5-6
But certainly that was symbolic, right?
There's no way He'd send an actual baby, right?
God created us to appreciate the unexpected, to be delighted by surprise, to revel in a solid plot twist
And He doesn't disappoint.
But He does catch us off guard
And leave us bewildered for a time
With His ways.
Fortunately, His baffling plot-twists always lead to a significant payoff in the end
Like Jesus.
So if life is twisting for you now,
Know that you can trust Him with the unexpected.
Come, thou long expected Jesus,
                born to set thy people free;
                from our fears and sins release us,
                let us find our rest in thee.
                Israel's strength and consolation,
                hope of all the earth thou art;
                dear desire of every nation,
                joy of every longing heart.
2.            Born thy people to deliver,
                born a child and yet a King,
                born to reign in us forever,
                now thy gracious kingdom bring.
                By thine own eternal spirit
                rule in all our hearts alone;
                by thine all sufficient merit,
                raise us to thy glorious throne.