My Nosebleed in the Battle Against Sin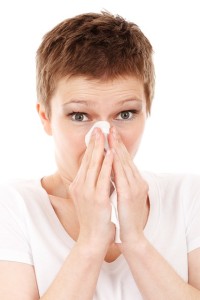 This week I shed blood in an effort to resist sin.
It's not the glorious story you would think.
You know I love Jesus. You also know I sin. I'm not one of those people for whom Jesus is icing on the salvation cake. Nope. Without Jesus in my life, there's no icing, there's no cake, there's just a whole cake platter full of stinkin' sin.
I avoid sin, not out of fear of hell but out of love for Jesus and because I believe Him when He warns me that certain actions and attitudes have consequences I should avoid.
In my experience, avoiding sin is sometimes a simple, straightforward proposition. In adolescence, it meant staying out of barrooms and backseats. I didn't smoke anything cursed or curse with any words that smoked. In my son's generation, that's called being Straight Edge. In mine, it was called being Square. Same difference.
Other sins lie buried in the landscape like undetonated mines. Sins of the heart and attitude sneak up on a person – blooming in the darkness of our private thoughts like fungus: envy, pride, greed, deception, or lust. Still other sins are challenging mostly because they're matters of debate in the family of God. Ugh. Hate those. They wreak havoc with my inner Pharisee. That's what I ran into this week.
I've been experiencing a boatload of stress. It's taken a toll on my blood pressure and my waistline, so I'm determined to find ways to de-stress. I'm no runner. I can't afford a gym. My doctor and others recommended yoga. An exercise one can do standing still or lying down appeals to my sedentary nature but, yoga is derived from Hindu religious practices. I knew there was some controversy over it so I googled "Christians and yoga."
Wow. Yeah. Passionate arguments exist about the dangers of practicing yoga. My inner legalist wars with my reliance on grace so I immediately felt my muscles cramp at the complexity of the issue.
Initially, I decided practicing yoga falls in the category of Paul's instructions about eating food offered to idols. I'm not trying to be Hindi in anyway. When I stretch, I'm not thinking about false gods, so maybe, I thought, I could just do the moves and be fine. That didn't work because I have a tender conscience and was so sensitive that others would think I was sinning that I knew I was better off avoiding yoga.
Next, I researched Christian alternatives to yoga. Here you must understand that I have been philosophically opposed to "Christian alternatives" to any trend since back in Christian college in the eighties when our student body hosted a "Christian toga party." Sheets draped over fully clothed students drinking non-alcoholic punch was NOT a toga party alternative. It was just pathetic. So, I didn't hold out much hope for Christian yoga options. (coincidence that yoga rhymes with toga – I think not.)
I'm sure they're fine, but they won't work for me. I don't believe in emptying my mind during a workout but when I hear Scripture quotes, I think about them– really think about them – so it's not relaxing to be focused on Bible verses while I'm bending awkwardly. I also find it annoying to stretch to music so I get all weirded out and guilty if the music annoying me is praise music. THAT feels wrong so then I'm not relaxed, I'm guilty and stressed while still bending awkwardly.
Ugh.
Plus, I wondered why some alternative Christian yoga uses the same poses and postures. Are the forms the issue or what the instructor says or what's going on in the practitioner's heart and mind? I could feel my blood pressure rise but now I was determined to figure this out. This is ridiculous. The devil doesn't own stretching, right? I mean, the body only moves so many ways. I am free in Jesus and I believe that includes the freedom to touch my toes without fear I've invoked a Hindu deity.
I found a 30-minute Youtube video of a normal looking woman leading a series of stretches to instrumental music that didn't sound remotely Eastern. The woman didn't refer to any traditional yoga poses. I found it relaxing and just challenging enough. Yes, I thought, I've figured it out!
Then, in the middle of the set, she modeled a stretch I know I'd seen used in yoga. Oh no, my brain, rebelled. Now what do I do? There's no hint of Hinduism in the room. The free woman inside me urged me just to chill and do the stretch. My inner legalist freaked out and suggested I modify the pose just a bit so it would no longer resemble the yoga pose.
My inner legalist is an idiot.
The one little twist I did sent me face first into the floor. Yup, a face plant hard enough to draw blood. And my stupid inner legalist rejoiced as she quoted Hebrews 12:4 to me "In your struggle against sin you have not yet resisted to the point of shedding your blood."
"You've done it!" she exclaimed. "Stifle it," I responded as I stuck a tissue up my nose and mopped up the floor. Then, I sent my inner legalist to time out.
Sitting there, I heard another voice, one I'm sure was inspired by the Holy Spirit, saying, "Seriously, Lori, you aren't physically gifted in any way. Don't improvise. You'll kill yourself stretching." I flashed on a headstone that reads, "Here lies Lori Roeleveld. Death by legalism."
I'm trusting you, loved ones, with the embarrassment of this struggle. Sometimes I have my head together and other times, I'm doing a face plant. Do any of you end up twisted in knots trying to deal with a disputable issue? I can't be the only one. Our love for Jesus and our desire to avoid sin leads us into some crazy contortions, doesn't it? Sometimes it isn't pretty.
But Jesus' blood is the only blood that ever needs to be shed to cover my sin, of this I am sure. I will continue to pursue an outlet for stress but from now on, I think I'll keep my face off the floor while I'm stretching my muscles and my faith.
 I'd love to hear how you've wrestled with a debatable issue. Leave me a comment or two about your experiences.
I'd rather you didn't leave me arguments for or against yoga – I've googled about thirty different articles – I think I'm up to speed, but if you must, just send me an email through my contact page.
Have ideas for me on how ways to cope with intense work and life stress? You know, other than stress eating which is totally not working for me and will likely end up in a series of posts on gluttony! PLEASE, send me your stress-relieving suggestions (please leave out ideas related to taking a bath – that was my old coping mechanism but in our fixer upper, the bathtub is way down on my husband's to-do list.)
Big announcement coming up on the weekend, loved ones! Can't wait. Here's to safe travels, great adventures, and keeping your faces off the floor except for prayer! In the meantime, check out the winners of my September Giveaway! Each one will receive one of the books listed in the giveaway. Thank you to all who participated!