I Have Hugged the Cactus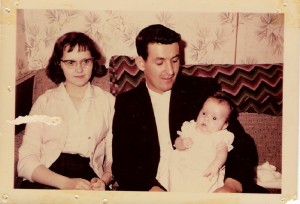 Ever cringe at old photos of yourself?
Old hair styles, outdated fashions, gawky phases,
uncorrected teeth or vision often haunt us
through the wonders of photography and video.
There was a period in my beautiful daughter's life
where we lovingly referred to her as "big head."
Hannah is now supermodel gorgeous and I think she was gorgeous back then, too,
but she wore her thick hair short which created tall curls and the
effect that inspired the nickname.
I like to pull out the snapshots when her boyfriend is around.
In response, she pulls out photos of my son prior to his orthodontia
and reminds him of "beaver boy."  Or, she points to any one of
a hundred photos taken of Zack
dressed as Zorro, Batman, a power ranger, Woody, or Spiderman
taken in his extensive superhero period.
Enough said.
My dad's head took a lot of years to catch up with his ears.
My mom wore catglasses.
My husband was fond of polyester.
Photos of me as a toddler reveal legs that look more like sausage rolls than human limbs.
The startled alien baby in the photo at the top of the post is
me.
I've decided that rather than cringe when I see these old snaps,
I should let them be a visual reminder
that what I am is not what I am going to be.
I'm fortunate that through the years
no one has developed a Polaroid of the soul,
otherwise there would be photographic evidence of
the years when I excused my penchant for gossip as "voicing concern,"
or the immature phase when it made sense to complain about my husband to anyone who would listen,
or the time when I felt superior to everyone who didn't believe exactly as I do.
Ew. Way worse than buck teeth or bad hair.
Just as we grow and change physically through the years,
so we do spiritually,
and the beauty of that is that we will continue to grow
until our souls are spiritual supermodels
of the One we love and serve.
" Dear friends, now we are children of God, and what we will be has not yet been made known. But we know that when Christ appears, we shall be like him, for we shall see him as he is." I John 3:2
What we are, is not what we shall be.
Take heart in this!
Are you discouraged by your failings?
Are you frustrated when you see your reflection in the mirror of God's word?
Take heart, loved ones, and don't abandon the journey forward deeper into God's great heart for it is in traveling with Him that we are transformed.
One day our sins and shortcomings will lie abandoned on the roadside
along with leisure suits, platform shoes, and bulgy thighs,
left only as a trail to testify to those who come behind us
of the transforming power of Jesus Christ.
No one's going to cringe at the family photo we take when we are with Him at last.
Recently, I watched the following video and it so eloquently demonstrates the power of forgiveness and of knowing that what we are is not what we will be, I chose to include it in this post.
 There is one curse word which is bleeped out but if that will offend you, please don't click to watch.
Otherwise, click play and learn what it means to hug the cactus.