Holy Cadaver, Batman! How Does Your Church Feel?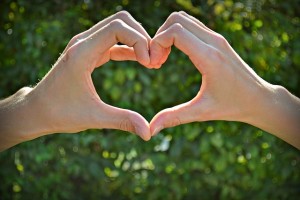 If I asked Jesus into my heart, why would He leave my feelings unredeemed?
That doesn't make sense, does it? And yet, all my life, the message I've been sent by the church community is that my feelings are not to be trusted.
On one level, I get it. Feelings are changeable and subject to complex influences. When a church member cautions, "we can't be ruled by feelings," I can agree – to a point.
But, I have to say, I also don't believe we should be ruled by our bodies or our minds. I know some extremely intelligent people who have thought their way into aggressive atheism. And every day I work with people living with the consequences of letting their hormones make their choices.
No, I don't believe we should be ruled by emotions but I also think we shouldn't let our intellect, or body dictate things but only Christ alone. If Jesus has redeemed me and the Holy Spirit is working to sanctify me, can't I expect that work to have as much effect on my emotions as on my mind?
We can't dissect ourselves this way. When Jesus died, He died for all of me. He wasn't mistaken in His original design. He gave me a body, mind, and soul. They were intended to work together, all subject to His rule.
I know when people repeat warnings not to let emotions dictate, they're suggesting that sometimes our feelings lead us into disobedience. Absolutely, anytime our feelings direct us toward sin, we shouldn't listen. But, I daresay my mind has been just as guilty of tempting me off the narrow path and sometimes my body has, through fatigue or libido, hinted that my best direction was away from God's true intention for me.
Coming down so hard on making us distrust our emotions more than any other aspect of our being is damaging to the Body of Christ in several ways.
For one, it encourages an unnatural state of being where our feelings are somehow quarantined from influencing us. The emotions of a mature believer living in obedience to Christ can work as they were intended to work – as a warning system (guilt and fear help warn us of spiritual danger), as a motivational system (compassion, honor, respect inspire us to act for the right even despite our personal interest), and as a reward system (joy, passion, satisfaction, contentment, peace are all rewards for living in obedience.)
For another, over-emphasizing a mistrust of feelings gives evil influences an opportunity to mislead individuals who enjoy strong emotions into thinking there's no place for them in Christ when actually the opposite is true. Biblical stories are devoid of the dry, emotionless drones some believe is ideal for Christians. The men and women of the Bible wept freely, laughed with abandon, loved passionately, and were sometimes stirred to righteous anger with no condemnation from the Lord. Jesus came to give us life to the full – emotions are a part of that fullness.
Certainly, our emotions can become twisted or warped and can lead us astray but in the book of Romans, Paul speaks to individuals with perverted and deceptive reasoning and Samson certainly allowed his strength to lead him astray. But body, mind, and emotions can work together to enhance our experience of Christ, too, and to encourage us toward obedience.
Finally, there are gifts of the Spirit that can appear to be driven by emotion – for example, the gift of mercy. We need not to stifle those who would exercise this gift in our midst in the name of "not being ruled by emotion." Indeed, fear of being ruled by emotions is actually being ruled by emotion (fear).
No, we need to listen to those with the gift of mercy just as we listen to those with the gift of teaching, exhortation, or evangelism. If we downplay the emotional life of the church, we risk sidelining or alienating those who bear this gift.
Jesus' redemptive work doesn't stop at the door of my heart, it doesn't cease to have an effect on my feelings, and it isn't limited to my mind. Jesus has saved me in every way I can be saved.
We are the BODY of Christ, not the Holy Cadaver,  complete with thoughts, actions, and feelings – all subject to Christ can serve His purpose. We need to minister to people's physical, intellectual, and emotional needs and stop trying to chop them into pieces in the name of Jesus. Why would we believe that coming alive to Christ means a deadening of our emotions? I believe just the opposite. Living in relationship with Jesus sets my emotions free to be informed by the Holy Spirit and exercised as they were designed to function: as one facet of an integrated human being living in obedience to Christ. I trust that forty plus years of walking with Jesus have had an effect on my entire being – including my emotions.
What are your thoughts on this? Dare I ask, how do you feel about this blog post? Let me hear from you, loved ones.
I could use your help spreading the word about my upcoming book, due to release the first week of December (and available for preorder now on Amazon). If you've been blessed by my writing, consider sharing my blog with others and encouraging them to subscribe. Contact me about coming to speak at your church or small group. I'd love to meet you in person. I appreciate all the kind words and encouragement you send me and my prayer is that together, we can encourage others to join the adventure with Christ. If you share news about my blog or book or get someone else to subscribe, send me a note on FB or the website and let me know what you've done. I'll put you on a list of people to be the first to receive a special gift I have in the works for November!