A Second Slice of Lie Pie

When we're watching what we eat, most of us decline a second piece of pie.
When the first slice is offered, we accept, but just a sliver, you know, so as not to insult our host or hostess. We consume for the cook's comfort, not our own, of course.
But a second piece, well now, of course we decline. A display of self-control we don't actually own.
Because, every time we enter the kitchen, we take maybe just a nibble. It's pretty appealing pie, after all. Designed to entice. By the second day, there is decidedly more missing than if we'd simply committed to a second piece.
Truth is, we can consume an entire pie one nibble at a time.
Likewise, as we navigate each day, we know enough, as followers of the truth, to decline even a first slice of lie pie, no matter how delectable the presentation.
But, our enemy knows if he leaves it within reach, if he confronts us at every turn with his offering, if lie pies stands are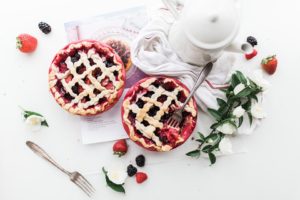 set up on every corner and hawked on every air wave,
we'll likely nibble until we've consumed entire slices of deception. In the belly of our souls, it won't sit well, and we'll need a remedy.
There are times, when we've progressed from crisis to crisis full tilt, that we need to recalibrate our souls with hefty doses of truth. Bible in hand and coffee at the ready, we sit in the white space of early morning and remember what is true.
This morning, my stomach in knots from too many nibbles, I applied this remedy to my own soul. These are truths that reset my spirit. Perhaps they will speak to yours:
God is my comfort, for He is the God of all comfort. I turn to Him for consolation (not food, nor drink, nor complaining, nor inward turning, nor spending, nor Netflix numbing). I wait for His reward, rather than rely on rewards of my own creation.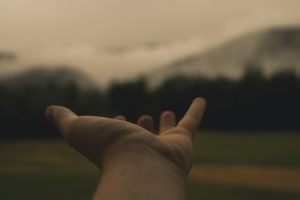 God will provide all my needs because He is Jehovah Jireh. I do not need to worry, grasp, grab, or strive. I can live with an open hand and a generous heart, because He is my shepherd and I shall not want.
God will protect and defend me. I will not rely on armor of my own design – not anger, fear, depression, distance, irritability, manipulation, or revenge. I am His child and He is my Deliverer, in Him will I trust and, so I will rest from my anxious thoughts and twitching soul.
God won't lose sight of me because He is the God who sees. If I feel forgotten, unseen, set aside, ignored – my feelings lie, not my Bible, and I must remind them of the truth. I follow El Roi and none of my ways, needs, thoughts, or activities escape His attention or care.
God was, is, and is to come, so I will not fear the future for He is already there. Nor will I regret the past, as He is able and willing to redeem me, despite my transgressions, and to heal and renew me following the transgressions of others.
He designed me for now – placed me in these times and in this location. It's a waste of spirit, focus, and inner resources to try to renovate the past or manipulate tomorrow. I have followed My Father here and I am present with Him. He is also in tomorrow and will prepare a place for me in that day.
God is my Father, Redeemer, and Friend, so I will live as one who is loved, free, and included. I will be content, generous, humble,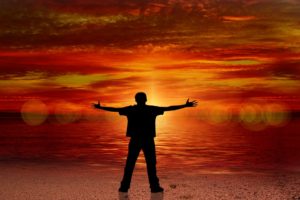 creative, intentional, joyful, gentle, forgiving, patient, loving, and attentive.
I will be transparent and available to my Father and to those He places in my path to love. Because I belong to Jesus, I have nothing to lose and nothing to prove.
I will feast on truth and decline even a nibble of the lie pies Satan's willing to deliver to every door, all of us only one click away from total deception. There's zero nutritive value anyway, and they leave a nasty aftertaste.
My palate is supernaturally attuned to eternal truth, my appetite cultivated for the bread and wine that is Jesus, my heart turns toward truth like a grape seeks the sun on the vine.
A Second Slice of Lie Pie https://t.co/usZ0nNLTAT overcoming evil with good #Jesus #deception #truth

— Lori Roeleveld (@lorisroeleveld) October 29, 2017