(Overcoming Your Giants and
Living a Fruitful Life)
What if a fairy tale and ten Bible verses could free you to live
an effective, fruitful life in Christ?
We live in a world populated with giants. Giant obstacles to sharing faith. Giant barriers to godly lives. Giant strongholds of sin. We come from a long line of giant-killers so, why aren't we dodging more fallen giants? Jack and the Beanstalk could hold part of the key.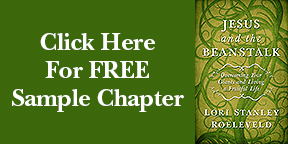 Jesus and the Beanstalk explores 2nd Peter 1:1-10 using fairy tale, humor, and modern culture to show today's believers how to unleash that promise of an effective, fruitful life. Designed for both individuals, discipleship, small groups, or ministry retreats, readers will find this fresh take on spiritual growth engaging and motivating.
Are you ready to topple the giants in your life?
Available Now from Abingdon Press
Also available, Lori's Equipped to Slay Giants Retreat Planning Guide with everything you need to make your group's next event a life-changing experience. Are you ready to discover your giant-killing potential? Click Here!
Check out this interview about Jesus and the Beanstalk!