Writers, Do You Have Any Idea What You're Doing?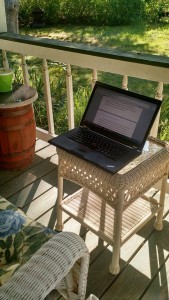 Don't say "I work with words."Rather say, "I handle hazardous material so combustible it has destroyed careers and incited revolutions."
Don't say, "All I can do is write."
Rather say, "All I can do is  create life-infused dispatches from behind enemy lines using the same compound that sparked what the uninformed refer to as the Big-Bang. "
Don't say "I write."
Rather say, "I apprentice in my Father's business, following in His footsteps and modeling His every move as He is the Master Craftsman.
His words produced entire solar systems, the greatest thinkers of our time, and the curve of a woman's thigh. There is this potential, also, in what I scribble. It may not be evident today but I have endless days to perfect my craft, to create new worlds, to breathe life into the souls I dream."
Don't say, "I hope my words are read."
Rather say, "My desire is that through my art, you will hear the cylinders click into position and know I have unlocked the priceless potential of words.
That you will stand and tremble realizing I have unleashed the junkyard dogs of the building blocks of existence containing a force beyond that of a thousand nuclear warheads and that you will not be able to outrun the snarling revelation overtaking you like a truth unchained."
Don't say, "I hope to be published."
Rather say, "I hope the blast effects that occur when I combine words in my laptop laboratory will illuminate the heavens so that they cannot be ignored or denied. I hope the radiance of the detonation will inspire the illiterate to learn to read just so they can enter deeper into the experience of the Glorious God my words seek to describe.
I hope the masses fall silent as they stare, open-mouthed and weeping, at the realization that what they thought was only possible in their private dreams is accessible to all and that they grasp my dangling participles to rise above their own shattered stories, their feet lifting from the unforgiving earth, their lungs emptied of the noxious gas of deception, and their victorious laughter fired by the helium of freedom as my words carry them closer to the great God-heart they now know beats also for them. "
Don't say, "I am a writer."
Rather say, "I am my Father's child."