Will I Be Alone at the Lunch Table? (Thank You, Tosca Lee)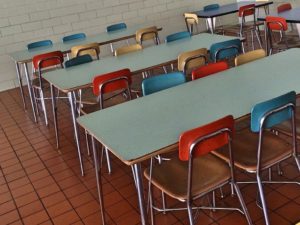 Will I be alone at the lunch table?
Remember wondering that? As the photos of children returning to school or jumping on the bus for the first time flit across my Facebook feed, the memories flood back.
I loved school. Learning was a joyful and effortless pursuit for me. Books were my haven, writing my gift, and I understood math at least long enough to pass a test. New school shoes, paper bag book covers, and shiny unblemished notebooks were like Christmas stockings and Easter egg baskets.
But also, through those years, I was alone all the time. Even surrounded by classmates. Even on a busy playground. Even in a cafeteria full of peers. I was always alone.
There were countless reasons for it. Reasons I understand with the distance of years. Explanations that have something to do with me, something to do with them, and something to do with all human nature. Some kids just don't fit in. Some kids don't have a regular crowd in the lunchroom. Ever.
I hated it then. Took it on myself like a deformity. Wore it like a scarlet letter or a scar. Now, I hav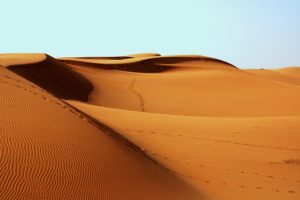 e a different view.
Loneliness was my desert, like where Moses fled or where John the Baptist wandered. It was my shipwreck, like Paul endured three times. It was my prison cell, like Joseph experienced after his brothers tossed him in a hole and sold him to slavers. It was my caves in the hills like David when he fled from Saul. It's the place I didn't want to be. The long, hot, dune of my childhood and adolescence that I'd never have chosen but where God met me, fed me, defined me, refined me.
In many ways, the desert remains with me, even into adulthood, and informs who I have become. I use the phrase without thinking. All the time in unfamiliar social situations – Who will I sit with at the lunch table? In large groups, out of habit, I take a seat alone. People assume I'm a little stuck up when really it's still my reflex that someone already seated is probably saving that place for someone else – not me.
For too many years, that loneliness was an open wound. Driving me to make bad decisions just to avoid its return. Creeping into my personality in ugly ways – manipulation, insecurity, clingy-ness, people-pleasing, or constant fear. The evil one used variations of the question Who will sit with you at the lunch table to taunt, to mock, and to cow me away from inhabiting my freedom in Christ. But, greater is He who is in me than he who is in the world. Jesus took on the desert within me, unafraid, and gently (okay, sometimes not so gently) made me face it with Him.
God didn't remove my desert but He transformed it into a place with springs of living water. I'm stronger for having wandered in that desert remembering it is where I heard the voice of God and learned to follow His footsteps through the burning sand. When loneliness returns, as it does in every life, I feel that initial lunchroom fear but then I remember – Jesus is here. When rejections come, as they do for us all, I'm instantly that lonely girl wondering if anyone else will let me in. But, then He reminds me, I belong to Him, with Him, beside Him, and have been adopted into His vast family. When I meet others who are lonely, who don't belong, who eat alone, or watch the crowds around them knowing they're not invited, I speak their language. I hear their heartbeats. And I have more than just my own presence to offer – I have the presence of the One who will never leave them – if they are willing to receive Him.
This summer I attended a writer's conference where I didn't know most of the others there. Initially, I felt the panic rise as I faced the large conference hall alone but I heard Jesus beckoning me to take the seat He'd saved me. The speaker asked us a series of questions, deeply personal reflections intended to help us mine the caverns of our lives for universal truths woven into our own stories. I was answering easily until one question sucker punched me in the center of my soul: When did you feel most misunderstood?
I put my pen down on the table and stared, stunned. I remembered being alone in a thousand lunchrooms. On dozens of playgrounds or dances or parties. Alone on the bus. Alone at home.  Alone in hundreds of conversations trying to explain why I felt so deeply, so passionately about Jesus even at age six, eight, ten, fourteen. I remember the looks. No one understood.
And sitting there I realized I'd grieved that desert so desperately, I was pierced so intensely with that inability to make them understand – that it drove me to learn to communicate about Christ.
My sense of being alone with this knowledge of God, this desolate place, drove me to develop a language to explain what I was reading in the Bible, to write words that would inspire others to see God, to help them want to follow Jesus, to encourage them to go deeper on the adventure with Him – so that I would no longer be alone.
And I sat in amazement that God not only met me in the desert, accompanied me through the desert, forged our relationship in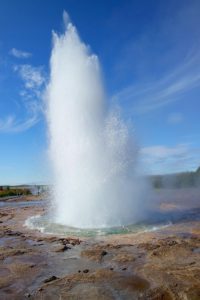 the desert, and transformed my desert into springs of living water – He even used my desert as a means to bless others with Himself.
The question remains with me to this day – even at fifty-five – who will sit with me in the lunchroom – but when I hear it, I'm no longer afraid (for long). Where will it lead us now, Lord? This desert place, this loneliness, that once was the prison Satan thought would contain me – where will it take us now? And I inhale deeply of the freedom that is mine in Christ, take a long gulp of living water and face the desert unafraid.
When have you experienced the power of Christ to transform your desert into a spring of living water? What desert are you walking through today that you don't have to face alone?
Will I Be Alone at the Lunch Table (Thank You, @ToscaLee) https://t.co/3ZaJIWHGmJ transforming our desert places #amwriting #healing #Faith

— Lori Roeleveld (@lorisroeleveld) August 30, 2016