Why I've Given Up on Open Doors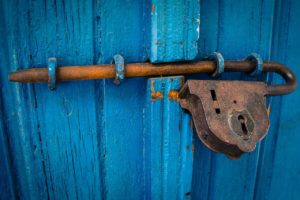 There are many doors in the Bible, but God concerns Himself, primarily, with two.
The first, he mentions to Cain in Genesis 4:7: "If you do well, will you not be accepted? And if you do not do well, sin is crouching at the door. Its desire is contrary to you, but you must rule over it."
This is the door within us. This door we all have, and some keep locked to God. We must open the door within us to Christ because when we do, we enter into a reality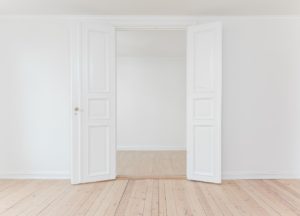 more powerful than any the world has ever known.
Abraham sat at the door of his tent and this is where he encountered God in Genesis 18. When God promised Abraham a son, Sarah listened by the door and when she heard the pronouncement, she laughed to herself, there in the doorway.
When the angels God sent to deliver Lot from the destruction of Sodom and Gomorrah were threatened with harm by the men of that city, Lot shoved them into his home and closed the door behind him. The angels reached out and pulled Lot in. Then, they blinded the Sodomites, so they could not find the door.
When the angel of death was due in Egypt, Moses instructed the Israelites to put the blood of a sacrificial lamb above their doorposts as a sign that the angel should pass them over (Exodus 12). Then, in the wilderness, every morning when Moses would depart his tent to enter the of meeting, every Israelite would gather at his or her door and worship.
When God gave His commands to Moses, He commanded that all the people write them on their doorposts.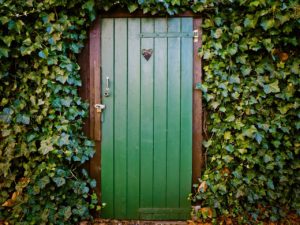 When King David had sinned with Bathsheba and called her husband, Uriah, in from battle, hoping one night with his wife would cover David's sin, Uriah refused to enjoy the comfort of his wife. He chose, instead, to sleep at David's door. (2 Samuel 11:9)
In 2 Kings 4, we see Elisha performing miracles behind closed doors, shutting out the unbelief of those on the other side.
This first door is our door. Jesus mentions it in Revelation 3:20 "Behold, I stand at the door and knock. If anyone hears my voice and opens the door, I will come in to him and eat with him, and he with me."
If you have yet to open the door of your heart to Jesus, I strongly urge you to do that now. To live with the door of your heart open to Him is to truly live. Shutting Him out leads only to death.
You already know the second door. The only other door that matters. It's Jesus.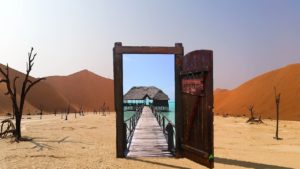 In John 10:9, Jesus says, "I am the door. If anyone enters by me, he will be saved and will go in and out and find pasture."
We know that Jesus doesn't need doors opened for Him – He is the door.
After His resurrection, Jesus' followers were praying in the upper room with the doors locked in fear for their safety. He entered without issue. When Peter was imprisoned, Jesus opened the doors of Peter's cell. In Acts 12, when Peter and the angel reached the iron gate of the city it "opened for them of its own accord."
Jesus tells the church of Philadelphia, "The words of the holy one, the true one, who has the key of David, who opens and no one will shut, who shuts and no one opens. 'I know your works. Behold, I have set before you an open door, which no one is able to shut. I know that you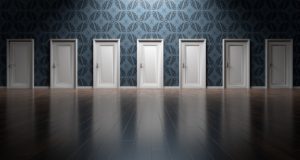 have but little power, and yet you have kept my word and have not denied my name.'" (Revelation 3:7-8)
Why am I thinking today about open doors? Because I realized this week, I have to stop looking for them.
I've wasted too much time in my fifty-seven years, looking for open doors to walk through. What a fool! Walking through open doors is something anyone can do – it doesn't require the power of Jesus to walk through an open door.
I don't need open doors. What I need – what we need – is to keep the doors of our hearts opened to Jesus and then walk with Him through the door of every situation to which He leads us. He is the open door.
Remember Harold and the Purple Crayon? Little Harold didn't worry about doors or bridges or parachutes – when he needed a door, He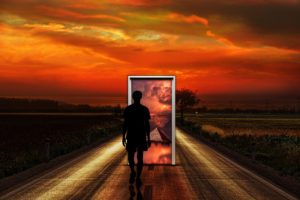 drew one with his purple crayon and stepped through.
The power of Jesus Christ is like that, except it's real – more real than any slammed door, locked door, impenetrable door, barred or chained door between us and where Jesus wants us to go.
Are you standing before a closed door? Stop waiting for it to open.
Ask Jesus to show you the way through and then walk in the way He shows. We don't need open doors – we abide in the door. Just keep walking.
Why I've Given Up on Open Doors (and so should you!) https://t.co/jfsaf5EkMF #Jesus #Jesusisthedoor #haroldandthepurplecrayon

— Lori Roeleveld (@lorisroeleveld) August 26, 2018