Who Moved the Finish Line?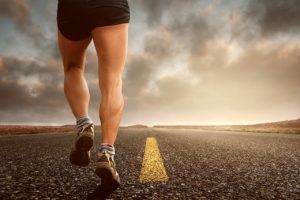 Imagine running a race with no clear finish line.
My father was a high school athlete back in the early fifties and loves to reminisce. My favorite story is not one of his glory, but one of his arrogance.
Dad was a baseball player and he was fast. So fast, his coach challenged the track coach one day that dad could best his runners.
Being the early fifties, high school sports weren't so bound up in regulations. The track coach took the dare, offering to let dad run the next race.
"Stanley, take off your baseball shirt. You're running the 440." Dad's coach ordered him down to his T-shirt and Dad, having NO clue what the 440 was but believing he could do anything, trotted over to the track.
The other runners crouched, but dad began from a standing position. At the sound of the starter pistol, he was off and immediately ahead of all the runners by a comfortable lead.
He remembers people yelling and cheering. He knew he was way ahead of the other runners, so he poured on the speed. Of course, he was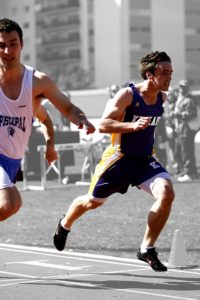 the fastest! Was there ever any doubt?
Reporters from three local papers waited around the track. Dad was confident his win would be big news the following day. He ran faster. As he neared the curve of the track, there stood his baseball teammates hooting and cheering.
Dad was soaking it in until one of them called out "You're halfway there, Stanley!"
Halfway? Halfway?
It suddenly occurred to Dad that he had no idea how far the 440 was, but halfway was not what he'd been thinking. It wasn't too much further up the track that Dad hit a wall, passed out, and landed on the track with one inglorious thud.
When he came to, his coach and teammates standing over him, he asked "Did I win?" They groaned, and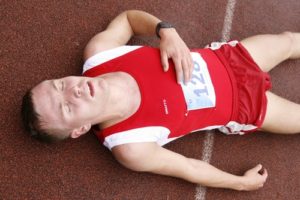 the coach shook his head in disgust. Throwing Dad's baseball shirt back at him, the coach ordered, "Just get back to practice, Stanley!"
Before you enter a race, it's good to know the distance. Training to run a sprint or a dash is wildly different from training for a marathon.
Sometimes though, we don't have information about the finish line.
None of us knows where the line of ribbon waits for us. My father has been planning his funeral since he was in his twenties. As a firefighter, he always imagined his life would be a quick sprint. But, now he's in his eighties and he still doesn't know where the ribbon lies, but then, neither do I.
So, how do we train when our finish line is veiled until we stumble over it? Rely on the training of a great coach.
The writer of Hebrews tells us that we all run a race and there is One in charge of our training:
"It is for discipline that you have to endure. God is treating you as sons. For what son is there whom his father does not discipline? If you are left without discipline, in which all have participated, then you are illegitimate children and not sons. Besides this, we have had earthly fathers who disciplined us and we respected them. Shall we not much more be subject to the Father of spirits and live? For they disciplined us for a short time as it seemed best to them, but he disciplines us for our good, that we may share his holiness.  For the moment all discipline seems painful rather than pleasant, but later it yields the peaceful fruit of righteousness to those who have been trained by it." Hebrews 12: 7-12
When God brings hardship into my life, I hate it, but I've learned through the years that no hardship I've endured has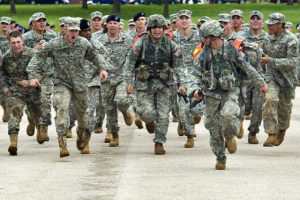 ever been wasted.
Because of the Lord's help, I've taken from each trial a skill, an understanding, or a strength that I can pull from the knapsack of my soul further along on the track to either sustain myself or others for the race.
When the discipline is happening, praising and thanking God for it seems as ridiculous as praising a coach for extra wind sprints or thanking him for making me do push-ups until I puke. But when I'm on my feet and flying down the track, I'm grateful for the newfound endurance or grace.
I'm a lot like my dad. Too many times, I've shot off like an arrogant fool and let the roar of the crowd distract me from paying attention to the race. Too often, I've come to, lying on my back as others easily sailed around me and seen Jesus just shake his head, roll his eyes, and send me to the showers.
But, whenever I land on my back, it does help me keep my eyes on Him!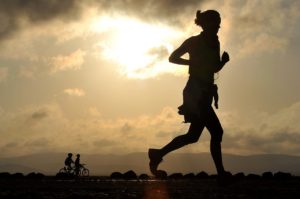 "Therefore, since we are surrounded by so great a cloud of witnesses, let us also lay aside every weight, and sin which clings so closely, and let us run with endurance the race that is set before us, looking to Jesus, the founder and perfecter of our faith, who for the joy that was set before him endured the cross, despising the shame, and is seated at the right hand of the throne of God. Consider him who endured from sinners such hostility against himself, so that you may not grow weary or fainthearted." Hebrews 12:1-3
The finish line awaits us all. Finishing well is the prize, but that takes training, loved ones. Pay close attention. We have the best Coach.
Who moved the finish line? https://t.co/5jdjSZ39GS What happens when we run with no clear view of the finish line? #runningtherace #Jesus #runners

— Lori Roeleveld (@lorisroeleveld) January 11, 2018