When You're a Leader in Crisis (and nobody knows)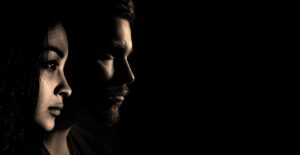 You're in trouble and you know it. But, you're the only one who does.
Others suspect, but it's not something they're addressing because you're the one they look to for their answers. Plus, you keep telling them you're fine.
You're a leader, teacher, pastor, head of the ministry team, head of the family, missionary, elder, parent, doctor, first responder, communicator, personality, or worse –
You're their rock. Their strong shoulder. Provider. Advisor. God-knower, vision-setting, prophesying role model. The dependable one. Faithful. Confident. Sure.
And your thing is transparency. You're no hypocrite. You cut your ministry teeth on authenticity. You share your failings. Lead by example. Walk the walk.
Sure, but now you've taken a hard hit. You didn't see it coming but it came. Something wormed its way over the transom of your prayers, and you are one hurting unit. Blindsided. Down for the count.
Maybe it was a death or a disappointment. An unanswered prayer or an unrepentant prodigal. A loss or a letdown. A disaster. A scandal. A rejection. An assault. A private dream deferred, or a public plan undermined.
And you're a hurting unit. Really hurting. Like, how will you get out of bed tomorrow wounded. Like what is there to hope for in the future tested. Like you never really understood certain terms from the Psalms and spiritual literature until now – brokenhearted, downcast, dark night of the soul.
You know the answers. You teach them enough. Speak them to others in their dark nights. You've expounded on the answers in essays,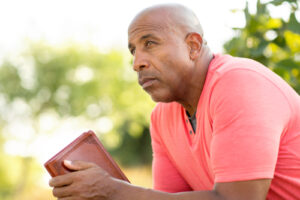 sermons, retreat talks, keynotes, heck, some of you wrote the books on the answers.
You haven't lost faith, but you've definitely sprained it (where are those soul crutches when you need them?). You read your Bible. You pray. But life has lost some luster, there's a missing dimension, and what was once joy now feels like sleepwalking through thigh-high swamp water.
Who do you tell? Authentic transparency makes sense until this moment. Not like you can stand before a room of people waiting to hear God's Word, His truth, His hope and moan about your inner turmoil. Who will that serve?
And suddenly, there you are, the most public person in the place, all eyes on you, but poof, you're invisible.
King David faced this. His son, Absalom, rebelled against his own father. He plotted to steal the throne and did, for a time, dislocate David and his people from Jerusalem, where he carried on a false reign.
That is a pain of one kind. Personal betrayal, public embarrassment, trial by tongue fire. The triple threat.
When Joab led David's army against Absalom, they prevailed, and Absalom was killed. (2 Samuel 18). Israel is victorious, your crown is secure, but a dead son trumps all recovered crown.
The death of a son when one would have preferred repentance and restoration is another level of pain altogether.
The army returns, victorious, but their leader doesn't celebrate them, he grieves. And the people are crushed by the king's anguish and are suddenly ashamed of their victory.
Joab scolds David. He is a leader and the people have done what they were tasked to do – reclaim the thrown and save those oppressed by the rebellious prince. Wipe your tears, David, and show your face. Rise to your role even if your heart is torn for your child who never lost sleep over your agony. And Joab's not wrong.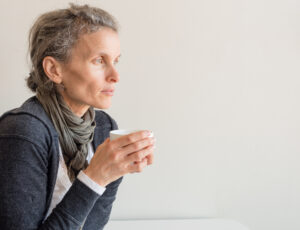 So, yes, it's not inauthentic to continue to show up for our lives and lead with words of faith and truth, even when our hearts falter within us. This is how we lead. This is how we represent. It's when we disappear into the public persona behind closed doors that we risk our sanity and our lives.
Some crises are transient. People give us space to deal with them. They're understanding and supportive. They bring soup.
But chronic troubles or traumas with lasting impact or long-standing disappointments that resist arrest are maddening because people want us to move on. People don't understand. And none of us can check out of our lives for months at a time.
So, we must find a space in which to function even when the child within tugs at our shirt tails pleading with us to stay home and hide.
The path to healing and living in truth is found by learning from the lives of those who came before us and who also suffered unbearable, enduring pain:
Stop lying. You're not fine. Speak the truth to God. Don't hide from Him or from yourself, in your hours of private prayer. David poured out His heart to God without reservation and without editing the anger, sorrow, disillusionment, and pain. God consecrated those prayers for our use in worship. He rejects our sin, not our humanity. Bring your wounds into His light.
Take nourishment. Move yourself out of the direct line of fire long enough to catch your breath. Elijah had faith to call down fire from heaven but when it was done, he despaired of life. God sent him to nap, eat, drink, and nap again. Leaders who represent God don't become God. We have limits. Respect them. Protect them.
Let your inner circle into your pain. Jesus took aside Peter, James, and John in Gethsemane and asked them to keep watch with Him as He prayed. "he began to be sorrowful and troubled. Then he said to them, 'My soul is very sorrowful, even to death; remain here, and watch with me.'" Matthew 26:37b-38 ESV. Don't have an inner circle? Find one. Now.
Read a biography of another leader/preacher/missionary who struggled through a great trial. Many believers before us have been pushed by life, warfare, and friendly fire to battle depression and disheartenment. They lived with open wounds and survived. Be instructed by their walk through the valley of the shadow of death so you do not fear.
Seek professional help. Tell your doctor, a spiritual guide, a therapist the depths of your despair. Especially if you've had thoughts of suicide or lost all hope that the future will hold any joy. Seek out a support group and discuss your treatment options with someone who knows what they're talking about. You are not alone.
Remember that your battle with woundedness doesn't make you a hypocrite. We cannot save ourselves. Even the greatest firefighter, skilled at rescuing others, cannot save themselves when its their mangled car flipped on its roof on the side of the road. When your soul is disoriented by the spin of events in your life, you're not a failure if you can't think your way to healing. Continuing to speak truth to others isn't hypocrisy, it's your job. The truth hasn't changed even if your soul has a sort of passing flu.
Watch your self-talk. The negative self-talk leads us deeper into the darkness and opens us up for the temptation to self-soothe in sinful and destructive ways (whatever you just thought of – yeah – like that.) When you beat yourself up in your mind, listen to the words you use and ask if you would stand for anyone you love being spoken to that way. Renounce these words and ask God to help you see you as He does. Writing about our struggles in the third person can give us just enough distance to offer ourselves the compassion we give to others.
Keep a list, just for sanity sake, of foolish things people say to you during this time. Seriously, label a page in your journal "Useless Lines People Spoke into My Situation." When you write them, forgive the speaker, and chuckle about the words with God, but reject any power they may have had to discourage you.
You will not always feel like this. You are not your wounds. You are an eternal son or daughter of the Most High God who reigns eternal and one day, you will see Him face-to-face, and step completely into your true self. Reject the whispered propaganda of the enemy. This will pass, you will remain.
You tell me – I've been struggling of late with pervasive wounds that blindsided me. What strategy for coping have I not mentioned that you know – share it in the comments or email me your hard-earned wisdom.
The battle has intensified. No one is immune to fatigue, wounds, confusion, or the trickery of Satan's subterfuge. We're all on the frontlines.
We all stumble, sometimes we fall, but we don't have to stay down and we don't have to let the stumble undermine the work. We can keep showing up for others but we have show up for ourselves, too.
Are you at risk of becoming invisible while you're standing right up front? Speak up. We'll follow the sound of your voice and help will be on the way.
When You're a Leader in Crisis – and Nobody Knows https://t.co/JPBpwSH0GO #leadershipdevelopment #Evangelicals

— Lori Roeleveld (@lorisroeleveld) February 13, 2020