What Did One Domino Say to the Other?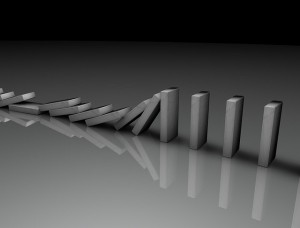 What did one domino say to the other?
I'll tell you in a minute.
First, I've been thinking about the power we have
to incite one another.
This is a force
We can use it for evil or for good.
This is a force.
Testimony coming out of North Korea
from survivors and former guards of the work camps
where countless people, a large number Christian,
are suffering unimaginable horrors,
describes a culture of mass fear.
The billy club effective at keeping everyday people
in line in this regime
is the practice of punishing three generations of a family
for the suspected crime of one.
That's right.
If your father is found with a Bible or
suspected of planting a church
then his parents, his spouse, and his children are rounded up
and deposited into the camps.
No trial. No explanation. Just delivered into bondage.
This is effective to incite families to police one another,
to silence troublemakers
to raise children who know how to fly beneath the radar.
This is how a tyrant appropriates the power of the masses to
do his bidding
and raise generations paralyzed with fear.
Sodom was like that.
and Gomorrah.
Cities so rampant with violence and fear that their in-hospitability became
call for their destruction.
"Behold, this was the guilt of your sister Sodom: she and her daughters had pride, excess of food, and prosperous ease, but did not aid the poor and needy." Ezekiel 16:49
Entire families, towns, and countries take on a culture of sin
spreading it to one another like a contagion
until so many are affected
a person couldn't find ten individuals who defy the crowd.
It happened in Noah's day.
It's happening in ours.
Cultures don't come about simply by edict or proclamation or tyranny.
Every individual contributes either a yielding or a resisting.
Like dominos we stand or fall with so much depending on the domino beside us
ad so many beyond us affected if we make the wrong choice.
And yet, even in North Korea, the kingdom of God grows.
Like rampant yeast, it bubbles silently
and the church rises despite the efforts to keep it down.
Why is this?
It is because of our power, in Christ, to incite one another, to spur one another on.
The writer of Hebrews call us to harness this power, to focus it like a laser, to love and good works.
Hebrews 10:24-25 "And let us consider how to stir up one another to love and good works, not neglecting to meet together, as is the habit of some, but encouraging one another, and all the more as you see the Day drawing near."
We can watch our enemies use our own power against us to increase the darkness
or we can appropriate it for the forces of light.
IT IS THAT SIMPLE.
The Greek word translated "stir up" is paroxysmos – an inciting, incitement, irritation.
The church can be irritating, right? We can do this.
The root of paroxysmos is paroxyno – to make sharp, sharpen, to stimulate, spur on, urge, to irritate, provoke, arouse to anger.
Seriously, these are things we learned to do as children. Anyone who has siblings has the talent to provoke, to incite, to irritate.
Now, we just have to turn it on each other.
We need to irritate each other to love and good works.
Incite one another to be light.
Spur one another on to Godly choices and actions.
Provoke one another to stand against the forces of darkness reigning in this world.
To do that, we need contact with one another. We need to meet. To talk. To interact. To engage.
To create a culture of love and good deeds so we are known for THAT
Not for affluence, complacency, whining, grumbling, laziness, or self-indulgence.
This is why believers in persecuted countries risk their lives to gather together.
By God's power alone, they stand against the evil tide
and they meet to hear from Him and to remind one another of truth.
We need to become students of Noah, of Lot, of the North Korean church.
To learn how to stand when every domino beside us falls.
To hold our ground as if everything depends on us.
Because it just may.
One friend who provokes me is Aaron Gansky.
He wrote a story about a writer, Connor Reedly, who receives an assignment from God.
The assignment isn't one he wants and it will likely cost him more than he's willing to give
but it gradually dawns on Connor that his actions (or inactions) will affect countless others.
So much depended on him. One man. One keyboard. One voice. One light in the dark.
Aaron's story stays with me. Noah. Lot. Connor Reedly. You. Me.
What if we employed the power of one to spur another on
not to evil but to love and good deeds?
What if I do that and you?
Then we could answer the riddle:
What did one domino say to the other?
We don't have to fall.
Tell me who spurs you on. What do you do to spur others.