Warning: Sensitive Christians Should Not Read This Post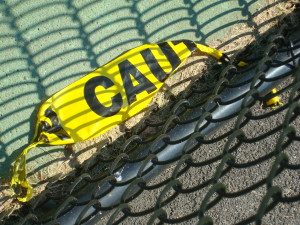 So, I'm assuming if you've clicked on this post that you either a) don't consider yourself a sensitive Christian,b) didn't read the title before clicking,or c) you're sensitive but your curiosity won out over your fear of being offended (good luck with that. From here on, you are officially on your own!)I've been thinking lately about sensitivity and offensibility (yes, I made up that last word.)
I remember years ago talking with someone about the TV show M.A.S.H. She shook her head as I was talking and finally held up her hand saying, "Oh, I can't watch that show because I'm so sensitive to sin."
Huh?
Not being stupid, I did understand that the implication of her statement (backed up by her facial expression) was that I was somehow calloused to sin and perhaps should check myself that I was able to tolerate this assault on my Christian sensitivities without taking offense.
My first thought was, "Lighten up, lady."
My second thought was, "Man, she's right. I'm such a sinner. What's wrong with me that I'm not offended by M.A.S.H? I need to read my Bible more.
My third thought was, "I don't want to give up watching M.A.S.H! I love Hawkeye."
My fourth thought was, "From now on, I won't talk about M.A.S.H. with other Christians. There, that should settle it."
Have you ever gone through a similar thought process? (Remember, if you're a sensitive Christian, you shouldn't even have read this far in this post!)
Exchanges like that make me want to check my conscience and always be sure that I haven't grown insensitive to the things that offend God.
But then . . .
Not long ago, I was sitting with a group of writers, trying to explain some of the parameters of Christian fiction.
No cursing. No graphic violence. No sex scenes.
None of these writers wrote for the Christian market and they were fascinated with these challenges but also wary. One of them finally asked me, "How fragile are these people, anyway?"
Another one said, "Are you sure you really want to write for Christians? It seems like it doesn't take anything to offend them!"
Now, first of all, let me assure you I have no burning desire to write sex scenes or characters who curse.
The fiction I write does usually contain a few battle scenes so the violence is hard to avoid but let me assure you that no one is ever naked or swearing when they run someone through with a sword!
But, it does bother me that Christians are often known as "those people who are easy to offend."
I don't see that in Jesus. It doesn't seem as though He walked around gasping and averting His eyes at every corner and if anyone was ever sensitive to sin, well, He would be THE one, right?


By now you should realize that I'm not writing a post about an issue I've settled in my mind but one with which I wrestle regularly.
We live in a culture that has forgotten God and cares little about the things He loves. So, we can't walk out our front doors without seeing something that is contrary to His will (or turn on the computer or TV or radio.)
While I don't think I should spend the lion's share of my time soaking in images of sin or reading about sinful acts, I'm also not ready to spend my day's reading Amish fiction and watching movies produced before 1940.
Not long ago, I watched a train wreck happen during a sermon when a pastor who prides himself on being "unaware of popular culture" repeatedly used the phrase "Here's your sign" to make his point. He grew continually more upset when large segments of the congregation burst into laughter whenever he said the line rather than take it as the dire warning he intended. A little cultural awareness would have gone a long way that Sunday!
I don't want to cause other Christians to "stumble" or to be tempted to judge me but I also don't find everything sinful that other people find sinful. I don't need them to agree with me or join in with me but I do want to live with them in peace.
This is where I find James 1:19-20 NIV comes in handy, "My dear brothers and sisters, take note of this: Everyone should be quick to listen, slow to speak, and slow to become angry, because human anger does not produce the righteousness that God desires."
I don't get angry with sensitive Christians because I know they love God and seek to please Him. Often, sensitive Christians have helped set my train back on the right track before I followed my insensitivity right off a cliff.
My uncomfortable experiences have taught me to listen to others first and be aware of what they might find offensive so I don't start talking about the themes in The Matrix with someone who only watches reruns of The Waltons.
Watching The Matrix (which is rated R) doesn't cause me to sin, and in fact, makes me consider some deeply spiritual truths about Christ but I wouldn't invite anyone else to watch it with me if they found the rating or the costumes or the violence offensive.
Here is where context is key.
Some young men do watch The Matrix because of the costumes and it does lead them to sin so then, they should knock it off.
Other context examples: I don't enjoy movies where there is a lot of cursing but if a young teen I'm counseling swears, I barely notice it because I'm so focused on what he or she is trying to express. There are some romance movies, though, with no cursing, rated PG, that drive me CRAZY because the lead character lies to everyone before coming out with the truth in the end! That's my particular sensitivity but I don't impose it on others.
I really do believe that it is not what goes INTO the body that makes us unclean but what comes from within and we must all sort these things out with God. Thank God for the sensitive believers who remind us of God's holiness and thank God for people who can wade through popular culture without stumbling so they can reach out to the lost using the language of the times.
I've no conclusion to this post because I want to start a discussion. How do you sort through these issues? What is your insight into this problem? What can you say that's of help here? Am I alone in wrestling with this? Let's talk.