Thou Shalt Disturb the Peace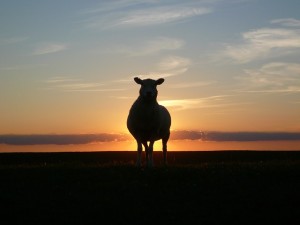 A woman walks into a Christian cathedral full of Muslims . . .
It sounds like the set-up for a joke. It isn't.
And you know, right away, it isn't a joke because instead of going along with the set-up, your brain is snagged on the question, "why is a Christian house of worship full of Muslims?" Your mind rapidly scans the possibilities of this story but even the most benign scenario doesn't lead to you think the punchline will invoke laughter.
Turns out, they were peaceful Muslims and the woman, after crying out what she came to say, is simply escorted to the door, ejected from the sanctuary of her God for disturbing the peace by mentioning His name in His own house.

She doesn't appear mentally balanced. Even other Christians distance themselves from her story, perhaps because they believe her act was futile. She entered a room full of smart, powerful, civilized people, pointed to the cross, and shouted, "Jesus Christ died on that cross. He is the reason we are to worship only Him. Jesus Christ is our Lord and Savior."
When a man reaches for her arm, she pulls away and continues, "We have built enough of your mosques in this country. Why don't you worship in your mosques and leave our churches alone? …America was founded on Christian principles…Leave our church alone!"
It was over in a moment. A headline, nothing more. Blog fodder. News reports discrediting her. She lives in her car. Her husband divorced her for her extremist views. She drove from Michigan on a mission from God. She disrupted a public event aimed at unity. This was a room full of peaceful Muslims, not that other kind. What was the point? She's a blip in one news cycle and the whole stunt seems pointless, right?
Or maybe, God loves the Muslims gathered in His house. Maybe He believes in disturbing the peace of gentle, kind Muslims with the truth that there is only one God. Maybe He loves them enough to give them an opportunity to know the truth.
That's right. Say it with me. I want you to practice. There is only one God. "And there is salvation in no one else, for there is no other name under heaven given among men by which we must be saved." Acts 4:12 (ESV)
From the most brutal terrorists to the kindest Muslim, there is only one way to salvation. Jesus Christ.
That's a weird sentence to write. I'll bet it was weird to read. But it's the truth. You and I both know it. I will happily live in peace beside anyone – Buddhist, Jew, Hindu, atheist, Muslim, or Wiccan – and I believe in and support their freedom to worship in any way they desire. I'm not driven to be in their faces with my beliefs. I'm not that kind of girl. And if it was a simple matter of "live and let live," I suppose God would bless my inaction. But live and let die without opportunity to hear and respond to the truth isn't a loving option, is it?
There is only one God. Jesus Christ.
If we believe that, and I do, that leaves us with the undeniable knowledge that to worship any other thing or name or being is to worship a lie that leads to destruction. People are free to do that and God doesn't endorse coercion or force in gathering followers but He does command me to love my neighbor. I'm not a loving neighbor if I fail to mention, at least once, that there is salvation in no one else but Jesus Christ, the ONLY living God.
It sounds beautiful, doesn't it, to gather people from all religions into one house of worship and experience faith together? Something in us wants to get behind that, go along with the program, turn off a part of ourselves and just keep the peace.
Jesus didn't come to keep the peace. He came to disturb it. Lies aren't lovely and the most eloquent prayers offered in any other name but Jesus are only idol chatter. Do we believe this or do we only say it in safe havens, in safe company, in places where it won't make waves?

One woman walked into a Christian cathedral full of Muslims and dared to announce the truth that salvation is found in only one name, Jesus. Maybe she's nuts but she's not the point.
The point is are you and I ready to repeat this truth in rooms full of people coming together under false pretenses? Are you and I willing to disturb a false peace? Or is our plan to sneak into the life boats under cover of dark and keep the truth to ourselves so no one thinks we're crazy? There's nothing really beautiful about that plan, is there?
Maybe God wasn't only delivering a message to a room full of Muslims through this woman. Maybe He also had a message for you and me.