The Most Violated Bible Verse in the American Church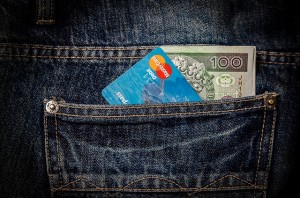 "But if we have food and clothing, we will be content with that." I Timothy 6:8
This must be the most violated Bible verse in America.
I recently perused the Christian Living shelves of my local Christian bookstore
in an attempt to find a book on sound financial living
and not one of them started off saying,
"Do you have food for today and clothing? Be content. That's all you need."
I didn't read all of them but their length and chapter titles
led me to believe there's a lot more included in an American Christian portfolio
than just food and clothes.
This money thing is a serious struggle for me.
We've lived on the financial edge for most of our married life
for lots of reasons I won't elaborate
out of respect for my partner's greater need for privacy
but I sometimes get the feeling
I don't have the "right" to moments of happiness or joy
because of our precarious financial state.
Choosing to be content
seems like a move in the wrong direction
mental health-wise,
an escape,
a dangerous delusion.
And it would have to come about
through supernatural means
because contentment is not currently in my natural wheelhouse,
nor is it encouraged by any aspect of my society.
And then,
I read about Pope Francis visiting the poorest barrios in Rio
and preaching the gospel to them
And then,
I sit in homes devoid of furniture, cable TV, and hope
watching honest people struggle to
escape poverty and public assistance
falling backwards twenty rungs for every one they manage to climb up
and I think
the gospel has to be bigger than this money thing,
bigger than debts, bills, investments, and long-range goals.
Jesus preached good news to the poor knowing there would always be poor people.
He didn't say "the gospel will make this all go away"
He said, "In this world, you will have trouble, but take heart, for I have overcome the world."
What does that mean when there isn't enough money for the electric bill
or medicine
or safe shelter?
What does that mean when you work hard and you've tried everything you know to try
but you're still not making it?
Isn't being content with food and clothing a cop out? an escape from responsibility? a sign of mental illness?
And do I have the right to be content for this for my children, too?
for other people's children?
According to many of those Christian Living financial books, a healthy financial portfolio is a sign of God's blessing, a visible testament to wisdom and right living, evidence that one's Christian life is on track
are there no believers living in the slums?
or in rental homes
or in homeless shelters?
We toss phrases at each other like
"You can't out-give God"
and
"Our father owns the cattle on a thousand hills"
and
"God will provide"
and we tell stories, I have some of my own,
 of unexpected checks in the mail or strangers saying God told them to give you something you need or windfalls arriving at precisely the last moment just a week after the person had the faith to tithe
and those are true and real
but then,
I'm watching Pope Francis walk through the barrio where the sewage flows in the streets
and I'm thinking there aren't enough unexpected checks showing up
and these people don't even have real doors
so this whole poverty/money/contentment thing is much more complicated than the lines we pour out like sips of water to a chain gang.
And I think,
I'm not smart enough for this life
and if money and security are a sign of God's blessing
Donald Trump must be a very holy man.
I want the contentment thing.
I want to honor God with all I have – my finances included.
I want to live by faith, not in a constant state of shame and fear and worry
and I want to know what Jesus means
for the families I see who are worse off than I am
hopeless for escaping terrible systemic, generational poverty,
or for the families in the barrio
who Pope Francis said to "hold onto hope."
What is this hope?
I think for American Christians
the hope they have is that things can change
that Jesus changes things
but what do we do when we love Jesus
and our condition doesn't change?
what if loving Jesus makes our economic situation worse – like it does for Christians in persecuted countries?
where are the cattle on a thousand hills for the Chinese believer who cannot get decent work
or education for his children unless he renounces Jesus?
If he should be content with food and clothes
shouldn't I?
I want to know Jesus and understand the kingdom of God as something more
than a means to my best life now.
I want to know what it means
in the face of every day
that Jesus is my hope.
The prophet Habakkuk wrote these words:
"Though the fig tree should not blossom, nor fruit be on the vines,
the produce of the olive fail and the fields yield no food,
the flock be cut off from the fold and there be no herd in the stalls,
 yet I will rejoice in the Lord;
I will take joy in the God of my salvation.  
God, the Lord, is my strength;
he makes my feet like the deer's;
he makes me tread on my high places." 3:17-19
So there is joy to be had in Christ
even when there is no cash flow or
secured retirement
or escape from the wolves at the door.
To me, that seems like a greater miracle than the stranger at the door with a check.
Lots of questions in this post, I know.
I have very few answers this week.
How about you?