The Bad News of Jesus Christ (God may not be your father)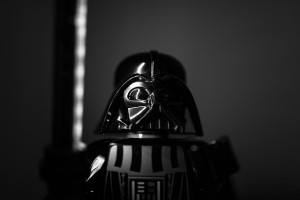 When you gather to worship this weekend, I want you to remember something important: Jesus isn't a nice guy. You aren't kneeling or raising your hands to worship someone who worries about being liked. His entire focus while He walked among us was doing the work of His Father and our opinion of that work didn't sway Him in any way.
While the good news of Jesus Christ is that He died for our sins and rose again so we can have eternal life, the bad news, for many of us, is that He came to call us out of our deception.
We live in a world rampant with lies. The air we breathe is part oxygen, part nitrogen, and part delusion. Like helium, this delusion leads us to believe we can fly, that we can rise on the currents of our own empowerment, and that we can soar above it all.
Jesus Christ popped that balloon at every opportunity. He didn't come to coddle us or to nurture our self-esteem or to show us that what we needed was within us all along. He came to confront us with the truth: We are NOT all children of God.
That's right. God may not be your father.
We are all God's creation.  We are all loved by God. But only those who receive Jesus are adopted into God's family. God becomes our Father when we choose to follow Jesus Christ.
Jesus didn't mess around with this concept. He had a whole crowd of people gathered around, hanging on His every word, ready to hear a message from God. If most of us were in this situation, we'd be excited about the prospect of sharing the good news with an eager horde of needy souls. We'd seek God's strength and ask Him what message they needed most to hear. We'd search for the right words.
But I suspect most of us, when we heard what Jesus heard from the Father, would stumble at delivering this particular truth. We'd check with God a second and third time. We'd ask God to let the guy next to us deliver this message. Some of us would even try to sugar coat or alter it, just a little. We might even let our courage fail and outright refuse to tell it straight.
Not Jesus. Because Jesus isn't a nice guy. Jesus is love, truth, and obedience and the truth isn't always "nice." So, His conversation with the soul-hungry, needy, seeking crowd went like this:
"I know that you are offspring of Abraham; yet you seek to kill me because my word finds no place in you. I speak of what I have seen with my Father, and you do what you have heard from your father."
"They answered him, "Abraham is our father."
Jesus said to them, "If you were Abraham's children, you would be doing the works Abraham did, but now you seek to kill me, a man who has told you the truth that I heard from God. This is not what Abraham did. You are doing the works your father did."
They said to him, "We were not born of sexual immorality. We have one Father—even God."
Jesus said to them, "If God were your Father, you would love me, for I came from God and I am here. I came not of my own accord, but he sent me. Why do you not understand what I say? It is because you cannot bear to hear my word. You are of your father the devil, and your will is to do your father's desires. He was a murderer from the beginning, and does not stand in the truth, because there is no truth in him. When he lies, he speaks out of his own character, for he is a liar and the father of lies. But because I tell the truth, you do not believe me. Which one of you convicts me of sin? If I tell the truth, why do you not believe me? Whoever is of God hears the words of God. The reason why you do not hear them is that you are not of God." John 8:37-47
Tough stuff, right? He kept talking after this and His words were so inflammatory, the crowd picked up stones and hurled them at Him. He didn't just annoy them, they wanted Him to shut up – permanently. They wanted Him dead for speaking truth into their lies.
That's the Jesus we gather to worship this weekend. He created us. He loves us. He sees our incredible, insatiable hunger for a perfect Father. He knows we are children seeking a home. But He won't lie to us. He's not afraid of us. He doesn't need us to like Him and He won't soft-sell what has to happen for us to be adopted into the family.
The truth is that there is only One way to the Perfect Father and it is through Jesus Christ. He is the Door, He is the Way, He is the Truth, He is the Life. No one comes to the Father except through Him.
It isn't a nice message. It's the truth we need in order to live forever as part of the family we all seek with every fiber of our broken souls. We can find the Father we crave by following Jesus Christ. That's the good news, for those who choose to hear.
Who's getting your Father's Day card this year?
If FATHER'S DAY is hard for you, All the Broken Fathers will help you see the hope we have no matter what our legacy is from our earthly parents.