Report from the Flood of 2010 – Passing Through the Waters in Rhode Island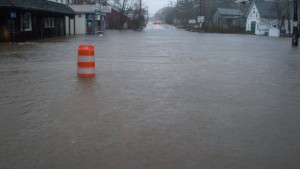 Thank you to all those outside of Rhode Island who have expressed concern and offered up prayers on our behalf. As I write this blog post, the first blue sky in days is appearing over Hope Valley but the air is also filled with the clatter of National Guard helicopters surveying the damage to our little town. God is good, God is faithful, God is present, God is near even in times of disaster.
Our family is safe and the waters are receding from our basement and my parents' home. We were all able to get a few hours sleep last night for the first time in days and it was healing. My neighborhood is abuzz with the sound of sump pumps, neighbors helping neighbors and emergency vehicles but the sun is shining for now!
For my household and my parents, this has been a lot of work and there will be much clean-up but we still have jobs and homes. Many in our town will find their homes and businesses condemned or will be without jobs. Please pray for them. My son's room was destroyed but all he lost is replaceable and he's got a great attitude about it all.
Pray also for my father who has been the fire chief in Hope Valley for forty-five years and has lived here for almost seventy-five years (since his birth). He has been working non-stop for days coordinating services, pumping out houses and businesses, rescuing people from flooded homes or from cars that slipped into the river and trying to save his two fire stations.
Hope Valley is a volunteer station (only he and one driver are paid) so every truck and every brick have been funded by grants and donations over years and years. They are insured. Pray for the men and the women who provide emergency services in town who now are exhausted but must continue to function. Pray for continued stamina as dams are still threatening to burst and people are still in great need of assistance in hundreds of ways.
As many of you know from the news, Little Rhody has had some of the worst unemployment in the country so this disaster will devastate many and leave even more without work and homeless. Pray for recovery efforts and that people would turn towards God and not away from Him through this trial.
There's been severe infrastructure damage – roads collapsing, bridges out, dams collapsing – and the water table is at its highest level so even though the rain has stopped for now, flooding and damage will continue for a few days. Pray for people's strength to be renewed.
Jesus said in John 16:33, "I have told you these things, so that in me you may have peace. In this world you will have trouble. But take heart! I have overcome the world."
Thank you all for your love, your prayers and your faithful encouragement! God is good all the time.