Pray for the Poets – They May Be Our Last Hope*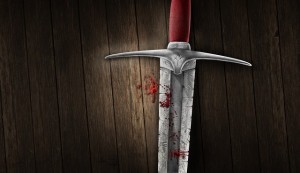 We say prayers for the preachers and prayers for the hands of
missionaries and teachers in foreign lands
We say prayers for the soldiers who are off at war
and prayers for the workers serving food to the poor.
But a time is coming
twisting round like a cloud
when the preaching of truth will be disallowed.
When the prince of the air and his kingdom of lies
will be embraced by the masses who truth now despise.
So I tell you this:
pray now for the artists, the poets, the kings of composition, of stories, and fantastical things
Pray for the hearts of the writers who weave
truth into stories a few will believe.
Pray for the filmmakers, novelists, and more to be courageous and bold when the world is at war with
the beauty of truth, with the scandal of love, with the Lordship of a God who rules from above.
When the preachers are silenced and true teachers banned,
the mission will fall to the poets on hand
like graffiti on street walls we'll work in the night to spray paint the gospel with aerosol light
we'll write Him in novels, in screenplays, in poems
we'll paint Him in murals in the square, in our homes.
Like an underground railroad we'll pass Him along in stories, in dances, in sculpture, in song.
There won't be room then for the spirit of fear
so writers and artists should train now to draw near
to the heart of the Almighty, to drink from His wine, to feast at His table and ingest the divine so it
flows from our fingertips into our art and pours from our spirits fed straight from His heart.
Pray now for the artists, the writers, the scribes
for courage, for commitment to truth above lies
Creativity is the last bastion of truth
when convention is silenced and fear takes root.
So pray for the souls striving alone with their art
to labor with courage and to live from His heart.
Pray for boldness, for bravery, for insight, and power –
to this work we've been called and now is the hour
for each artist, and writer, composer, and bard
to graffiti the world with the scandal of God.
"For the time will come when they will not endure sound doctrine; but wanting to have their ears tickled, they will accumulate for themselves teachers in accordance to their own desires, and will turn away their ears from the truth and will turn aside to myths." 2 Timothy 4:3-4 NASB
*offered humbly with apologies to true poets everywhere