My Prayers are Pathetic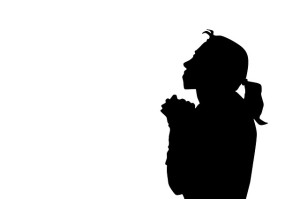 I think about them –
the school girls kidnapped by Boko Haram.
Months have passed since they were taken.
In those months, I've had good days and bad
but on my worst days, I'm still free,
on my worst days, I'm not suffering physical assault, separation from loved ones, or forced marriage,
on my worst days, my body is still mine, my daughter is here, with me, healthy, whole, free.
There have been times in the months since they were stolen,
that I've felt distant from God,
but I have access at any moment to my Bible, worship music, hymns, devotional supports, other believers, quiet space, nature, and all manner of vehicles to regain my spiritual connection.
What would I do if it was all stripped away? How would I survive if I was separated from every doorway by which I access my relationship with God except Jesus? These girls know the answer. They know that even if it is all taken from us, He is there. Because, nothing can separate us from Jesus. Nothing.
I believe that any of these young women who love Jesus have open access to Him, still. Where ever they are, in whatever condition – cut off from the world, sold into marriages, locked into hidden rooms, buried beneath burkas, forced into a faith they don't own – He is there.
He promises He will never leave nor forsake us. He is with each of them. He knows where they are. He knows who they are. They have all they need – in Him.
And He won't let me forget them.
He whispers to me during my prayer times, in the midst of worship, throughout my day – pray for my captive daughters, pray for your sisters in bondage, remember those who suffer for my name.
And I do.
I intercede – a word that sounds like more of an action than it feels like. It feels weak, pathetic, useless – the act of speaking or thinking words to God and expecting them to have some effect. When others scoff or mock my prayers – I understand.
Because in a world of men with guns, men who can steal young women and sell them into slavery, men who play politics with human flesh and who place no value in innocence or sweetness or girls with dreams – in this world, a middle-aged woman on her knees whispering to God feels like a ridiculous thing
and yet
and yet, He tells me it is not. And I believe Him over any other voice. And I hear Him whisper – pray for my captive daughters, pray for your sisters in bondage, remember those who suffer for my name.
So, I do.
For why am I free if not to exercise this freedom in service to others? Is my freedom to serve my own desires? No. When one part of the body hurts, we all suffer. When I face Him with my freedom, He'll ask me – did you use your freedom to serve your sisters who endured slavery? And I want to be able to say – yes. I heard your voice. I trusted your Word.
Through my love for Him, I am able to love them that I never met. Through my love for Him, I am able to ignore the scoffers and speak the words, words that feel like air, words that feel like puffs of breath, words that rise
rise
rise on the updrafts of faith created at His ascension where He receives these pale, fragile, puffs of wordy faith – my prayers – and He infuses them with power transforming them into bolts of light against the darkness of this world.
In His hands, my prayers are assault rifles against the real enemy.
In His hands, my prayers are smart bombs directing deliverance, relief, comfort, restoration, healing, and hope where He knows they are needed.
In His hands, my prayers form a light shield against the power of darkness.
My words are nothing. Gasps. Pathetic utterances. Useless on their own. But they do not remain with me – they go to Him and He is their transformation.
So let them mock.
Let them scoff.
Let them laugh.
I don't care about them.
I care about the schoolgirls – the ones we know about and those who didn't make the headlines. Jesus knows every name. He knows their locations. He hears the beating of their hearts against the cage of their lives. He is with them.
But He knows even more because He knows the names of the men who captured them. He knew them as boys before the darkness claimed them. He hears their hearts beat,too.
And He is greater than I am because His love extends beyond those schoolgirls to those soldiers, too. And when I pray for the lost, He takes those prayers, wraps them in His power, and hurls them at those soldiers to break them free from their captor, the one they are too blind to see.
My pathetic prayers in His hands can cut through chains and bars unseen by human eyes.
I think about them, the school girls kidnapped by Boko Haram, and the thought of them frees me from my small life, making me bold to enter the greater story. As I pray for their release, He uses them to release me from myself.

Do you think about them, too?
Perhaps you hear His voice whisper as well – does it sound like this? Pray for my captive daughters, pray for your sisters in bondage, remember those who suffer for my name, intercede for the lost, the captives enslaved to darkness, pray for them all.