Klingon Christians Don't Whine on Facebook – It's the New Year Post!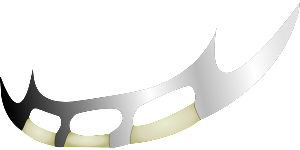 Listen up, loved ones! We're about to embark on a brand-spankin'-New Year and I expect it will be another 365-day wild ride of trials, troubles, and tribulations interspersed with fleeting moments of joy worthy of celebration.
How do I know this? Jesus promised it. "In the world, you will have tribulation." (John 16:33b) THAT'S a verse you can take to the bank. God's people will experience trouble until Jesus comes to take us home.
Early Christians understood that right out of the gate. You know, because deciding to follow Jesus in the early days frequently led to a face-to-face with hungry lions or expulsion from the local temple followed by social leprosy.
Imagine that. People chose to follow Jesus NOT because Christianity was promoted as a life-enhancement program but because they recognized their need for a savior, for forgiveness, for redemption. They were willing to endure suffering because Jesus was worth it.

He still is.
We're emerging, now, from a brief season in the life of the Western church where the world offered Christians widespread acceptance and relative peace. The fat lady is singing an aria on that opera, people. 
I don't have to have the gift of prophecy to predict that in the year to come, Bible-believing Jesus-followers will be misunderstood, misrepresented, scoffed at, mocked, ridiculed, caricatured in the media, derided, shunned, snubbed, and hated. In some areas of the world, we'll be shut out of good paying jobs, forced into poverty, publicly harassed, arrested, beaten, tortured, imprisoned, and even killed.
You know what that means, don't you?
We need to get over ourselves and fast. Those of us who love Jesus must develop the habit (and I'm sure the Holy Spirit is more than willing supply the strength for this) of not whining, complaining, or otherwise bellyaching about our lack of popularity or disfavor with the public at large.
Yes, it's important to alert one another to news of persecution. It's worthwhile for some of us to keep an eye on the culture and interpret the times for the others. It's beneficial to advocate, where we can, for fair treatment of our brothers and sisters. But there's no place in our faith for self-pity. There's no place for entitlement. There is no place for acting like victims.
Jesus was no victim. No one took His life – He laid it down – for us. As followers, we lay down our lives, agendas, plans, reputations, and preference for popularity – for Him. What's more, He's so amazing, He supplies us with the power to do it.
None of us should seek suffering. People who seek suffering or martyrdom have, you know, issues. In Gethsemane, Jesus pleaded to be spared the suffering ahead. (Hobbits have it right. Life is good. Comfort is lovely. Peace is desirable.) Jesus laid out His desires before His Father. (Which is where we should air our concerns – not on Facebook.) But, when His Father answered that suffering was the only way, He moved forward in faith.
In 2015, we will suffer. Some of us, unimaginably. We will also know Jesus better and we will have company even through the rough patches – each other. If we moan, whine, and complain, keeping our eyes focused on ourselves, we will compound our suffering. If we keep our eyes on Jesus, speak words of encouragement, and celebrate joy when it appears, we'll take part in the adventure.
The creators of Star Trek imagined the Klingon race – a noble people with a deep sense of honor. A warrior race, always battle ready but lovers of poetry, opera, family, and adventure. There's no whining on Klingon Facebook. They're too busy embracing life to whine.
Klingon Christians don't whine on Facebook. We embrace life – celebrating the joy and enduring the pain because we have the ultimate joy of following Jesus.
Let's face 2015 and all it brings together – all of us and Him!
"Therefore do not throw away your confidence, which has a great reward. For you have need of endurance, so that when you have done the will of God you may receive what is promised. For, "Yet a little while, and the coming one will come and will not delay; but my righteous one shall live by faith, and if he shrinks back, my soul has no pleasure in him." But we are not of those who shrink back and are destroyed, but of those who have faith and preserve their souls." Hebrews 10:35-39 (ESV)
Are you coming? It's going to be an adventure.