Judging, Not.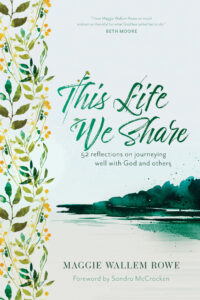 Did you ever meet someone and know immediately that you were kindred spirits? That he or she would become part of your fellowship of the ring? That's how I felt the first time I encountered Maggie Wallem Rowe. It's my pleasure to introduce you to her and to her knew devotional – This Life We Share. You can thank me later! 😉
Here is an excerpt titled, Judge, Not.
"Don't be nitpickers; use your head—and heart!—to discern what is right, to test what is authentically right." John 7:24 MSG
For a woman not athletically inclined whatsoever, I sure can jump to conclusions.
Throughout my late twenties and well into my thirties, I taught communications classes at a small university in New England.  Finances were tight in our ministry household, so whenever I had the opportunity to pick up extra night classes I did.  While my daytime students were all younger than I was, those continuing their education in the evenings were significantly older than I was. It was easy to be intimidated by their age and experience.
A student I'll call Deborah was a challenge from the start.  She sat in the same seat in the back each class session, refusing to engage in discussion while listening to me lecture with a perpetual scowl on her face. Hand propped on fist, she stared me down week after week until I was so unnerved I began to dread her presence.
She hates me, I thought.  She thinks I'm too young and unqualified to be teaching experienced professionals. She'll give me a terrible evaluation and that will be the end of my tenure in adult education.
After several weeks of our silent confrontations, I asked Deborah to remain after class one evening and  shared my concerns.  Had I said or done anything that offended her?
Deborah was astonished. "Professor Rowe," she blurted out, "I actually look forward to this class. I have an awful work situation and pressures at home. This classroom is a refuge for me. I had no idea I was making you uncomfortable!"
I had made the situation about me, yet it was my student who was struggling. How much I had to learn!
Who else have I been mistaken about lately? The slouchy young man in the hoodie with the tats? The goth teen with shocking pink hair? That older woman at church whose grumpy expression hides a kind heart?
Jesus couldn't have been more clear when he rebuked a crowd who accused him of being demon-possessed.  "Look beneath the surface so you can judge correctly." (John 7:24, NLT)
Does this mean we're never supposed to judge others?
Sometimes obeying God necessitates making a judgment, as when Paul warns the church about sexual immorality and the need for careful discernment within the body of believers (I Corinthians 5). Scripture also instructs us to discipline others when a believer caught in sin needs restoration (Galatians 6:1). Correcting others requires a careful look within in order to render a proper judgment without.
Judging other people's motives or intentions based on our own faulty filters is a wrong-headed way to view the world.
It's wretched being wrong until you get things right.
Taken from This Life We Share by Maggie Wallem Rowe. Copyright © 2020. Used by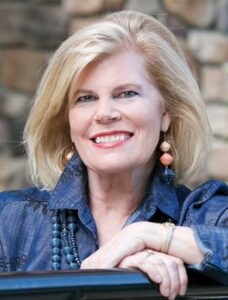 permission of NavPress. All rights reserved. Represented by Tyndale House Publishers, Inc.
Buy Link: https://www.navpress.com/p/this-life-we-share/9781641580076
Judging, Not. https://t.co/rH6Eo0gXsb #NewRelease #devotional

— Lori Roeleveld (@lorisroeleveld) May 8, 2020