In Seeking to Make Gods of Men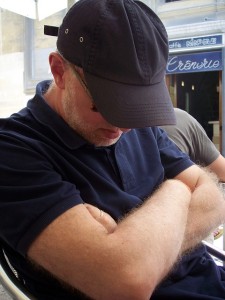 Are you ever afraid that people will discover what a fraud you really are?
That friends and family who are drawn to the outward expression of you, would recoil from and reject the person you encounter in the inner room of your heart, your soul, your mind?
It's not something we're prone to share with one another – this fear is the closest most of us get to holy ground
if we find another with whom to share it, we should, perhaps, remove our shoes.
I mostly know that other people experience this fear from their private writings made public after their deaths.
Like the poem, Who Am I?, penned by Dietrich Bonhoeffer  while awaiting trial in Tegel Prison in Nazi Germany. Here are several lines:
"Am I then really all that which other men tell of? Or am I only what I myself know of myself?
Restless and longing and sick, like a bird in a cage,
Struggling for breath, as though hands were compressing my throat,
Yearning for colors, for flowers, for the voices of birds,                               
 Thirsting for words of kindness, for neighborliness,
Tossing in expectation of great events, Powerlessly trembling for friends at an infinite distance,
Weary and empty at praying, at thinking, at making, Faint, and ready to say farewell to it all?"
These are words that give voice to what many of us feel in those darker moments when our spirits and our faith seem as likely to survive as a spun sugar hockey puck on an ice rink.
And there are many kinds of prisons:
a passionless but necessary career,
a loveless marriage,
a public role,
a chronic illness,
a fatal diagnosis,
a great loss,
a long-time caring for the needs of another,
an unexpected detour in our plans.
We know what people expect us to say in the face of these prisons. We speak publicly of faith, of trust in a loving God, of our hopes of deliverance, of patience and courage
and we believe what we say, we honestly do.
But when we switch off the light and are alone in our own darkness, even if there is one we love breathing beside us, we are alone with our inner person
and it is there that we remember that we are still only human.
It is there that we learn that while Jesus saves us and fills us with life that is vibrant, real, and eternal; Jesus does not make us into little gods.
There is a part of us that hoped that's what would happen.
And there are people around us who would make us into gods, demand from us God-like stamina and perfection, bring to us their endless needs expecting that we have God-like inner resources to fill their cups from our well
and sometimes we believe this ourselves
but it is a dangerous belief.
There is One God and there is no other.
In the inner rooms of our souls, we encounter our naked humanity and the vulnerability of it makes us afraid.
Afraid that no one else feels this way. Afraid that if anyone saw us in our naked truth, they would think us frauds and hypocrites, afraid that even God might turn away from this mess. And we wonder how long we can hide the truth from ourselves and continue to press on. We fret. We may even despair.
But the truth is, we were never meant to become little gods.
We need Jesus every day like manna, like water, like the breathe of life. And He knows that, even if we and others around us are prone to forget.
He doesn't reject our humanity. Our humanity was His idea.
The Bible lets us see this vulnerable side of those who were most intimate with God: Job, Jeremiah, Noah, David, John the Baptist, Peter, Paul. These were men who knew how desperately they needed God and who faced moments so low they despaired even of life.
But God didn't reject them in their struggles of the soul. He met them there. He received them. He knew what they felt before they did and He ministered to them.
They were neither frauds nor hypocrites but simply men, come from dust, returning to dust, frail and fleeting as a flower of the field, wholly dependent on the power of God to overcome.
When those moments come to you, loved ones, know that even if there is not one other human friend to whom you can turn, there is Jesus.
He has been in that inner room where you are naked and alone. He has already seen your doubts, your frustrations, you fears. He will sit in that room beside you and sort through the personal sorrows stacked like old newspapers on the floor and work with you through the process.
He may even turn on a light, and smile, and you will see that that room only had power over you as long as it was dark.