I Wrote This Post for You. Yes, YOU!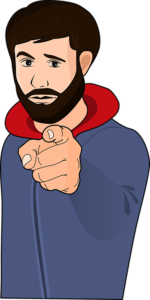 I wrote this post with you in mind.
Yes, you. You'll understand why shortly.
God has given some of you ideas no one else has. Ideas for things that have never been done or read or heard or seen before. Maybe it's a ministry to someone no one else is reaching or to a group others have tried to reach but not in this particular way. Perhaps it's a story, a film, or a song that's like none you've ever experienced but you just can't shake the idea. It could be a plan to enact. A work of art to create. A venture that must be tried. A trip He's impressed on you to make.
But, there's a problem.
You don't know anyone else who's done it this way or told it this way or tried it this way before. In fact, you're not fully certain it's from God because it seems so wonderful, you can't imagine He's entrusted it to you. Or it seems so big and you feel so small. Or the details are still awfully fuzzy. But, when you pray or read your Bible or worship, the idea floats back and it does feel like a God thing.
You're tempted to try it out on someone else.
Let me warn you about that. You see, every great work or movement or creative venture began as a tiny little idea conceived in the heart and mind of a human inspired by the Holy Spirit. There is nothing Satan likes more than to destroy life immediately following conception and this goes for life-giving ideas. Just as a baby needs time in the womb before others will find it appealing, so, too, do most new, inventive, creative, innovative, biblical ideas. Bring them out too early and the likelihood of their survival plummets.
So, do what God did at the start of creation. Hover over this idea. Or what Nehemiah did when it first occurred to him to rebuild the wall. Mull it over alone – maybe just bring your horse along. Spend hours alone on a hillside just like David did as a young shepherd, discussing the idea with God. Spend days in the wilderness feeding on locusts and wild honey like John the Baptist. Be alone with God with this concept and He'll breathe life into it. He'll let you know when it's time to bring it before others.
I know what you're thinking.
If this is such a great idea, why hasn't someone else done it, tried it, built it, designed it, written it, composed it, created it, or capitalized on it? If this is such a great idea, why hasn't anyone else had it?
Probably they have. When God wants to get a word or a work or a movement out, He looks for willing humans. I'll bet a lot of them let the idea die within them. But, I've prayed for better for you.
With every new concept, someone has to dig in and find the courage from God to try it for the rest of us.
This past week, I watched as the three phoebes who hatched out in the nest in the overhang by our kitchen door discovered they had wings. At first,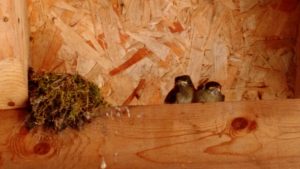 they had no clue what potential they contained. Finally, one tried fluttering them and he landed out of the nest on our concrete back step. I startled him by approaching and he fluttered into the driveway. He was making great progress but didn't get enough lift to rise above my husband's car. Smack! He fell stunned back onto the gravel drive.
I retreated to the porch and watched him recover his bearings. After a time, he began to chirp and I heard another chirp as momma bird gave him a call to follow. He figured out, again, how to propel forward but without enough lift – Smack! – this time he plowed headfirst into my car. Again, he slowly recovered until momma bird chirped him home.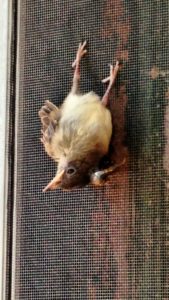 The next day, upon my return from work, I spotted the daring little guy hanging upside down from our screen door. The other two sat a little further now from the nest with their heads cocked watching him try to disentangle his feet from his snare. I tapped the screen gently and he flapped hard, sailing off, this time clearing both the cars. I cheered him on and went about my evening. Not long after, I realized all three birds had flown.
This is how it is, isn't it. Most of us cling to the nest, the comfort of what we know, until one of us listens to God's urging that we might want to try out our wings.
When we do, we're initially bad at it. We start out well but we plow into obstacles we didn't see coming. We try again and run into even bigger barriers. Sometimes, we get caught up in the unexpected and find ourselves hanging upside down waiting for rescue.
The thing is, our Father God is always ready to chirp us home, to free us from every snare, and to wait nearby, patiently, as we learn that if we flap hard enough, if we truly commit, we can fly. And then, those who have cocked their heads and watched us try and fail and finally succeed, well, they find their wings, as well.
So, maybe you're the bird with the inkling of an idea. I wrote this post for you. We desperately need you. The Body of Christ is rooting for you,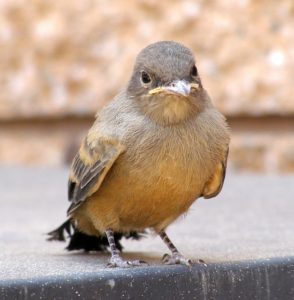 depending on you, waiting for you to trust God and try out your wings. Sure, it's not going to look like a thing of beauty immediately but keep trying.
Maybe you're the bird on the beam nest-side. I wrote this post for you, too. Intercede for your crazy brother. Pray for your risk-taking sister. Watch them like a hawk and believe that what you see in their lives is possible also in yours.
Then, baby, take flight. Who knows what heights He's designed for us to explore?
I wrote this post for you – YES, YOU! https://t.co/n0L2N5gbtk#learningtofly#crazyidea#amwriting#writinginnewengland#phoebes

— Lori Roeleveld (@lorisroeleveld) June 24, 2016
If you're receiving this through email and would like to make a comment (I LOVE when you comment), just CLICK HERE, scroll to the bottom, and let me know your thoughts!