How You Are Aiding and Abetting the Enemy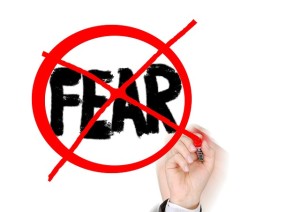 You have to stop what you're doing.
Yes, you.
Most likely, you aren't really considering your words. You're not trying to cause harm. You have good intentions but you're inadvertently aiding and abetting the enemy. And you have to stop.
I see you doing it everywhere. You do it during prayer time on Sunday mornings and sometimes from the pulpit. You do it over coffee in the fellowship hall and during discussions in Sunday school hour. You're rampant with it in social media. RAMPANT.
You do it in small groups and over tea with friends. You do it repeatedly and it's having a paralyzing effect on the body of Christ. I know if you were aware of what you're doing, you'd stop so this post is about making you aware. I've been guilty of doing this but now I see how I fell prey to the enemy and aided his effort to immobilize the body of Christ. I've had it done to me by well-meaning believers and had to pray through the effects it had on my soul.
Here it is:
you're inciting believers to fear. In saying things that sound spiritual, things that are wrapped in Biblical verbiage and things that have a veneer of holiness, you are actually promoting the power of the evil one.
How, you ask?
Let me preface the answer by stating my belief that the ONLY one we are to fear is Jehovah God. Jesus said, in Luke 12:4-5 "I tell you, my friends, do not fear those who kill the body, and after that have nothing more that they can do. But I will warn you whom to fear: fear him who, after he has killed, has authority to cast into hell. Yes, I tell you, fear him!"
If the words you speak, incite people to fear (obey, respect, honor, turn to) the Lord, then good. If, however, the words you speak incite people to fear the devil, the enemy, terrorists, trouble down the road, the apocalypse, stepping out for Christ, or any other act or event, then consider changing your message.
Here's what inciting unhealthy fear sounds like in the church:
"Be careful about what you do! When you step out in faith, the devil doesn't like it. He's sure to come after you!"
"You've been preaching/writing/ministering so boldly – I just know you're on Satan's list. You be careful out there."
"Our country is headed into trouble and God's going to remove His blessing so we'll be in the hands of evil."
"The president/Congress/church leaders have taken us down the wrong road and we're surely under a curse now. I fear for the world our children will inherit."
"I don't think I could do what that missionary/writer/preacher/minister is called to do. He/she is surely a target of the evil one."
I get it. I know that in some ways to some Christians these are backhanded compliments. Ways of telling others you think they're bold or you admire their ministry or you believe the trouble they've encountered is something of a war wound. I know you're worried for our country and for the next generations and you think you're offering Biblical warnings intended to guide others to obedience.
And it might be so if the chilling result of your comments wasn't fear. Fear of Satan. Fear of the anti-Christ. Fear of the powers of this world. Fear of demons. Fear of atheists, ISIS, terrorists, Communists, and every other Christian-seeking hater.
Stop inciting other believers to fear. It's wrong.
Now, there's nothing wrong with acknowledging the actual dangers we face or the reality of the age or the challenge of the end times but we are the people of Jesus Christ – WE HAVE NOTHING TO FEAR.
Jesus has defeated Satan. He has conquered death and evil. Satan can roar at us but our lives are in the hands of our Father God. Any trouble He allows in is trouble that will be for His glory and He will see us through it.
When an army goes into battle, they know their enemy. They're aware of the danger. But their focus is not on the enemy but on their purpose, on their mission, on their strength and skill. If a member of their own ranks continually focused them all on the power of their enemy, he or she would be disciplined for crippling morale and inciting fear.
We belong to Jesus Christ. We are free to walk through this world without fear. We are free to engage in ministry without fear. We are free to engage the powers of darkness without fear for God is with us.
As we hurtle toward the end of the age, surely the powers of darkness will rise up. Many will suffer. Others will turn from faith. The lion will rage and roar as his time draws to a close. Generations to come will not enjoy the relative peace of generations before but STILL WE SHALL NOT FEAR for God is with us. We will endure. We will have the strength we need because our Father will supply it.
When you speak with other Christians, speak truth, loved ones. Speak courage. Speak faith. Speak words that incite other to love and to good works. There is no room for fear among the people of faith. Let us give no foothold to evil. Let us refuse to crack open the door to demonic propaganda. Do not aid the enemy by inciting the body of believers to fear. Be aware of your words.
If you are afraid, return to the Word of God and to prayer. You won't find fear there. You'll find faith. The Israelites fell prey to fear when Goliath of the Philistines roared in their direction but a young shepherd showed them fear, rightly placed, not by fearing the enemy but by fearing God alone.
I speak strong words, I know, and I see the Goliaths of the age. How easily we can all be tempted to fear. But, let the temptation not come from fellow believers. When we turn to one another, let us find bold courage in one another's eyes.
The days ahead will call for courage, loved ones, but we will find it. It is ours in Christ. And we will have each other through it all. Let us repeat this truth to one another often.
When my book launches in December, I plan to host an online launch and a physical launch here in Rhode Island. Be on the lookout for my Book Launch/Courage Summit. I plan it to be a time to celebrate the release of Running from a Crazy Man (and other adventures traveling with Jesus) but also a time for believers to share courage for the days to come and a time to worship the source of our courage. David spent months running from King Saul (his crazy man) but God was with him, the source of his courage, and he prevailed. I'm looking for your stories now. Name the crazy man in your life (disease? disaster? disappointment? devastation?) – what is the crazy man that knocked you to the side of the narrow road. How did you access your courage in Christ to prevail against it. Contact me with your story (200 words or less) and I may use it in the weeks leading up to the release of the book to encourage others! You can be the way another believer accesses his or her courage in Jesus during their time on the run.