Forget About the New Year – That's Not the Main Story for 2016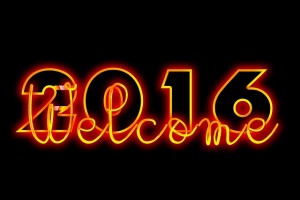 Too often we are solely fascinated by the new . . . new year, new leaf, new resolution. Our inner perfectionist loves the unmarked journal, the unblemished calendar, the pristine white of the first snow.
We're drawn to the new because, much as a recent amputee senses a phantom limb, we imagine that through the new, we can somehow recover the selves we lost in the garden. Every new baby evokes a phantom hope that perhaps this one will not choose to eat from the forbidden tree.
And yet, what we see as perfect in this world is a shadow of the perfection to come. Much of what we hold as perfect is an illusion, a false hope that of ourselves, we can achieve something flawless. We are like an endless line of beach walkers, seeking the whitest stone on the shore. As we walk there is always another whiter, and another, and another.
God is not so in love with perfectionism. The God of all truth has no delusions. He is perfect, yes, but He is not enamored of perfect materials. He loves, instead, the work of reclamation, of restoration, of redemption.
I never imagine God in a white suit sitting in a glass office. To me, He's more the overalls type, strolling thoughtfully in work boots between rows of discarded, rejected, broken human souls, smiling at the thought of their redeemed promise. He loves to pull us back from the brink, to uncover our hidden beauty, to surprise us with our unforeseen purpose and place.
Growing up in the sixties and seventies, I was unpopular and rejected. I was the antithesis of cool. In the age of Aquarius, I was so square, I was a cube. But where I spent Sunday nights, I was welcome, I belonged, I was home. In the basement of the First Baptist Church of Hope Valley, we gathered, a motley crew, around a piano and we sang hymns. We'd take prayer requests, of course, and the pastor would share "a word," but being Sunday night and him weary from the morning service, it wouldn't be long or overly convicting. The event, the happening, the gathering was about connecting with God through great hymns.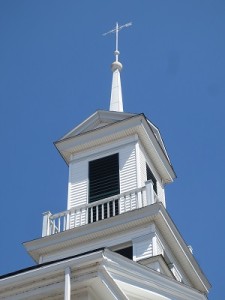 We were not the cream of the musical crop – or of any crop if we're being honest. Melva was a socially awkward woman who lived alone and so, in a differently awkward way, was the spinster teacher with the cat glasses and stern face. The pianist would change tempo randomly throughout a single hymn and the pastor was young and untested so his sermons were like a new cook's first attempts at soufflé. There were some married couples and me and there was Fred Bailey, an older man with only one arm (having lost his as a youth, I think).
There was little in my life that was predictable in those days but every Sunday night, I knew for certain, that I'd be welcome at the First Baptist Church basement hymn sing.
I also knew for sure that as soon as the pastor asked for requests, Fred Bailey would call out "Hymn #333, Blessed Assurance, all three verses, please." He'd wink at me and we'd rise from our cold metal chairs and blast out the song as if it took volume to reach the heart of God. If we were lagging in enthusiasm, Mr. Bailey would request we sing the chorus again, "with gusto." This is my story, this is my song, praising my Savior all the day long; this is my story, this is my song, praising my Savior all the day long. And in the singing of that song over and over, it did become my story. As we sang, I claimed my story and allowed no one else – no rejecter, no scornful boy, no hateful girl, no twisted adult to tell me what my story was about. My story is about Jesus.
It seems such a simple thing, gathering for hymns, singing the same one again and again. You wouldn't think God would use it to teach me solid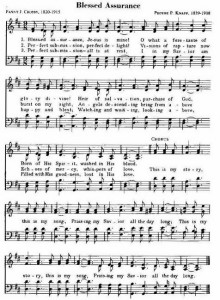 theology or lay a strong, secure foundation of faith or settle me down when I was at risk of losing my place in this world. But, He did.
Fanny Crosby, who wrote that hymn, was imperfect and had an imperfect life. She was blind from infancy and lost her father before her first birthday. She was, however, a prolific hymn writer, penning over 8000 songs! Fanny once said, "It seemed intended by the blessed providence of God that I should be blind all my life, and I thank him for the dispensation. If perfect earthly sight were offered me tomorrow, I would not accept it. I might not have sung hymns to the praise of God if I had been distracted by the beautiful and interesting things about me." Like her, I have to say, if God offered me the chance to relive my childhood perfectly free from turmoil and without rejection, I would say, "No. It has been far better to watch You work. Far better the trouble opened my eyes to Jesus."
We are imperfect souls and we inhabit a world of imperfection. It isn't perfection we should seek but Jesus, only Jesus. And we should pray our overall-ed God would choose us from among the ruined spirits and do His redemptive, restorative, reclaiming work so that all would see Him.
Whatever else I become in this life, there will always be a part of me standing in the coolness of that church basement that smelled of coffee and Play-doh, beside a one-armed old man singing Hymn #333, Blessed Assurance, all three verses, with gusto. We were an imperfect lot but, oh, the redemptive work Jesus did in our midst! That is a story I will tell until we are all home and long after.
In the year to come, don't seek perfection, don't even give it a thought. Instead, seek Jesus, and watch a Master restorer do a miraculous work in your soul.
Forget about the new year – that's not the main story of 2016! https://t.co/jBLIzzuaAD #HappyNewYear #amwriting #BlessedAssurance

— Lori Roeleveld (@lorisroeleveld) December 31, 2015