Five Ways to Respond to People Angry with God or Hurt by the Church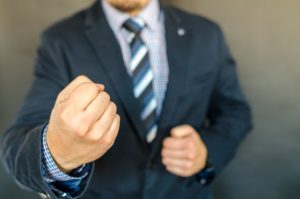 Let me confess to a struggle I have and admit, I may be short on answers about this problem.
Still, I suspect others share my dilemma and it's important we have this conversation.
How should those of us who thrive in relationship with Jesus and find deep community in the church respond to those who "tried Jesus" and found Him lacking or who have left the church because their experience was damaging?
I cringe when I see a news article or blog post written by someone clearly angry with God or the church who found "happiness and fulfillment" by leaving. Each situation differs, so we can't really form blanket answers. Of course, like Christ, we need to exercise compassion, but what does that look like because Jesus also never compromised the truth?
From individuals in the LGBTQ community who found "freedom" by leaving the church or by forming churches open to their lifestyles,
to individuals who were damaged by "patriarchy,"
to children who grew up in the faith who never felt understood or in sync with the "real world,"
to those who felt disillusioned when their families faced rejection over divorce or abuse the church didn't address,
to those who suffered under unmerciful and heartless authority, these stories are not something we should just dismiss.
Their voices carry weight because they were once "inside," church-goers, family. As voices testifying against the faith and as souls valuable to our Father, they merit attention. Many of us simply read their stories, sort it out in our minds, and move on, but I don't think that always serves the greater conversation.
Here are some foundational ideas for discussion:
First, do no harm. Quick answers, condemnation, and angry emotional responses serve no one. James instructs all of us: "Know this, my beloved brothers: let every person be quick to hear, slow to speak, slow to anger; for the anger of man does not produce the righteousness of God." (James 1:19-20) Listening is not the same as approving. Compassion is not the same as compromise.
Second, refrain from fretting. The experiences of others don't negate our experiences or the truth of Jesus Christ. Psalm 37:8 says, Refrain from anger, and forsake wrath! Fret not yourself; it tends only to evil." In my experience, this has proven true. The pain of those wounded by the church and the declarations of those who have turned their backs on Jesus do not change God, nor do they alter the greater story. So, we can listen and care without fretting or fear.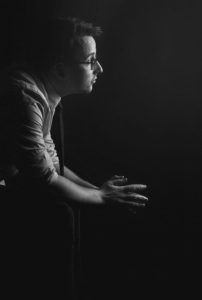 Third, exercise humility. We can freely admit that some have caused serious damage to others in the name of Jesus. There are toxic people and congregations who operate in Jesus' name. Some are immature believers. Some are harboring sin and hardening their hearts. Some are victims of false teaching. Others are counterfeit, wolves in sheep's clothing, sent to sow destruction amongst the faithful. We can have a ministry binding these wounds and exposing falsehoods if we acknowledge the existence of destruction done under the guise of our faith.
Fourth, ask the right questions. When listening to someone angry with the church or with God, we're tempted to ask ourselves, "How can I defend the church, the faith, or God right now?" This is the wrong question. Our Father defends us. He doesn't need us standing guard around His throne. Instead, ask, "How can I best serve this hurting soul? How do I best demonstrate love and communicate truth in a way that will be heard?" Rather than asking, "How do I give them the right answers?" ask, "How can I respond in a way that helps them see Jesus?"
Fifth, ask permission to tell your story. People who are wounded or in rebellion have stories to tell and they are often lurid or passionate enough to garner quick attention. But, our stories are valid and are also worth telling. The problem being too often we don't invest the same amount of passion, creativity, or thought into ours.
We dismiss our own stories of healing, answered prayer, renewed hearts, reconciled relationships, freedom from sin, and communion with others and withhold them from those who need them most. And yet, perception becomes reality until a greater truth overrides it in a meaningful way. We need to speak the greater truth at every opportunity.
But, we don't. Partly, that's a sinful expression of laziness, unbelief, and doubt ("Did God really do that or am I just lucky?" "Why bother learning to tell that story – I'm not comfortable getting personal.") Also, we have an element of survivor's guilt. ("Why did God provide for my need and not for theirs?" "How did I gain freedom from that sin when she's still trapped?")
Or we nurture a fear of offending, of speaking hard truths into delusions, or of getting into the unpleasant details of our own struggles and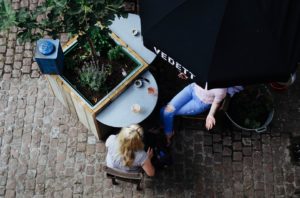 attempts to overcome sin or work our way through wounds. And yet, we must speak faith into this fear.
If the only stories being told are those from the wounded, the angry, the rebellious, or those who have walked away, how does this light the darkness for others trying to find their way?
And some who have walked away are simply looking for an excuse to part ways with Jesus, but there are some hoping there's a way back. We can illuminate their path by listening, loving, and sharing the stories we know to be true – ours and that of Jesus Christ.
There's more to this conversation, but it's not one I can have alone. You have a piece of this. What are your thoughts? How do you approach these conversations? What makes them better? What makes them worse?
FIVE WAYS TO RESPOND TO PEOPLE ANGRY WITH GOD OR HURT BY THE CHURCH https://t.co/f5zvL6byeY #wounded #Jesus #servingothers

— Lori Roeleveld (@lorisroeleveld) April 6, 2018