Five Good Reasons to Cry this Christmas (maybe six)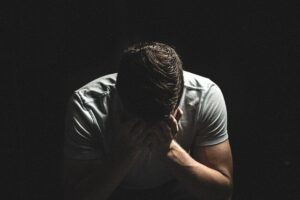 Can you still hear your parents' voices echoing from childhood?
"If you're going to cry about it, go to your room."
"Now, there's nothing to cry about."
"Stop crying or I'll give you something to cry about."
"Things happen. There's no sense crying about it."
Our human parents had their ways, needs, and struggles. Not always ideal.
Our Heavenly Father is perfect.
When we cry to Him, God doesn't turn away or send us from Him. He receives us as we weep just as He received David – a warrior king – who wrote "You have kept count of my tossings; put my tears in your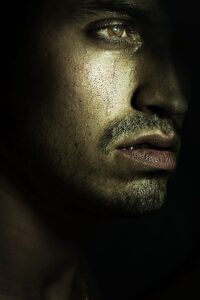 bottle. Are they not in your book?" Psalm 56:8 ESV
We're born to tears and spend much of our early lives crying to get what we need. Of course, it's a sign of maturity to reduce our use of tears to communicate, using words and actions instead.
And yet, even in adulthood, tears have their place.
Tears are God's design. There's scientific evidence of numerous benefits to crying – everything from releasing chemicals that dull pain to producing hormones that improve moods. Our Creator is an amazing designer.
Wise is the person who works with and not against God's design.
Any good gift can be abused and certainly some of us are prone to focus too much on ourselves or on passing hardships and to wallow in self-pity, but there are actually several good reasons to allow ourselves a good cry this Christmas season.
Grief – Not since 9/11 has there been a Christmas in recent memory where so many of us are reeling from significant unexpected loss.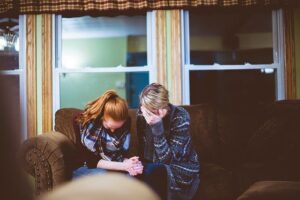 Across the nation, the death toll rises still. We've lost loved ones to COVID. And even those who've died of other reasons ended their lives in unusual circumstances. We've been shortchanged of presence in last moments, of traditional funerals, of gathering in grief, of faces and hands and healing rituals. We should weep with grief and weep with those who grieve. "Blessed are those who mourn, for they shall be comforted." Matthew 5:4. Let the tears flow and trust God to receive your grief.
There was sorrow following Jesus' birth when Herod ordered all infant males under two to be slaughtered.
Lament – The losses add up this year. Loss of dreams, ministries, businesses, sleep, strength, connection, relationships, and peace of mind. God knows what we're made of – He understands when we wrestle with disappointment, discouragement, and fear. Stop trying to pretend it doesn't matter, that it doesn't hurt. It does. Let the tears flow and trust God to receive your lament.
Of course, He holds your future, but it won't look like what you planned. He will fulfill His purpose in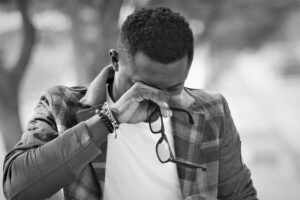 you but there is uncertainty about the path ahead. This is real.
Joseph and Mary's life was disrupted in countless ways they didn't plan – bearing God's Son, giving birth in a stable, fleeing to Egypt.
Sorrow – The world is broken. Children suffer. Men are destroyed. Women give up hope. Countless souls live desperate lives without the hope of Christ. And we know that judgement will come.
So many have either rejected Jesus or haven't heard of His salvation. Weep for them and sorrow before the Lord for a fallen world so in need. Ask Him to send workers into the field and pray for hearts to become fertile soil for the Word planted in them. He will receive your tears and answer them with guidance for sharing the gospel in the year to come. "Those who sow in tears shall reap with shouts of joy!" Psalm 126:5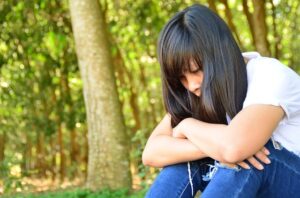 On the silent night when Christ was born, Rome oppressed the people, and many were broken with the weight of sin. But hope was born. God's kingdom has come.
Weariness – We are so tired. Medical professionals are weary of fighting COVID. People of every skin color are weary of prejudice and hate. Teachers, business owners, and countless workers are weary of change. We are weary of working and falling short, praying and waiting for answers, loving and losing and laboring without the expected fruit.
Elijah was weary from the battle and he cried out to the Lord to let him die. Instead, God let him sleep. Your tears will spend your strength so that God can bring you rest. Let the tears fall and when you fall, fall into Him.
Rest just as surely as the Christ-child rested in Mary's arms.
Longing. We are designed to walk with God. We are designed for a home that is not this fallen world. We are designed for an eternity to come. And it will. When we are far from home, we sometimes weep with longing for the familiar, for those we love. It is no different on this outpost of glory. We are citizens of His kingdom but we're not home yet.
One day, "He will wipe away every tear from their eyes, and death shall be no more, neither shall there be mourning, nor crying, nor pain anymore, for the former things have passed away." Revelation 21:4 ESV. But until then, go ahead and cry.
Jesus arrived as was promised at the first Christmas, and He will return as He promised on the day He ascended. Of this, we can be sure.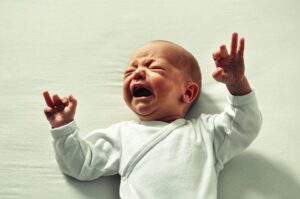 There are at least five good reasons to allow yourself a good cry this Christmas season. Jesus wept. God-lovers and Jesus-followers, saints of all stations have shed tears through the ages and found they aren't a sign of weakness, but a gift from our Heavenly Father. The gift of release.
Release all that has built up inside this year into our Father's great arms and feel His heart that still beats for us, His people, and for the world He loves. Go ahead. Conclude Advent with a good cry.
Then remember the cry of a child born in a manger that signaled our salvation had come.
And weep for joy.
What are some reasons you have wept through this Advent?
Five Reasons to Cry This Christmas (Maybe Six) https://t.co/6K500R9tQu #BlueChristmas #amwriting

— Lori Roeleveld (@lorisroeleveld) December 14, 2020