Disaster Graphics, Sleepless Babies and the Long-Haul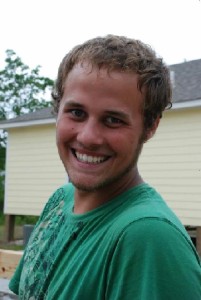 My oldest child, Zack, turns twenty-one Sunday. Wow, right?
I remember when I first brought him home. I was geared up for motherhood. I was organized. I had routines. I slept when he slept. I had support from my husband and my mother. For the first few weeks, life ran like clockwork and I thought, "I can definitely handle having more of these."
Then we hit the third month.
Zack was not a sleeper. I heard that babies sleep. I looked it up in all the books – there it was – babies sleep. Not this baby. Zack dozed occasionally but that boy was awake and eager to explore the world. At three months, he could stand up holding onto our coffee table. He liked to move, to interact, to see things but not to sleep. One week-end, I hit the wall and remember thinking:
This kid NEVER goes away! This is not going to stop! What am I going to do?
I really can still picture that moment, standing at my kitchen sink, realizing, for perhaps the first time, the meaning of long-term commitment.
That comes to mind these days as I watch reports on Haiti slip to the number two or three story slot in the news.
Most of us can gear up and show up for a short-run crisis. News reporters were all over Port-au-Prince within hours of the earthquake. It took no time for it to become a highly produced televised disaster with slick graphics and a musical intro before each newscast. Hollywood knew the drill and rapidly mass produced ribbons for Haiti that wouldn't detract from ball gowns and tuxedos and pulled together a star-studded telethon before you could whistle "We are the World".
It's all good.
The problem is that the situation in Haiti isn't a mini-series – it's a disaster marathon with endless potential encore presentations. The overwhelming needs in Haiti existed long before the earthquake and the solution to Haiti's problems will only be worked out in the very long term.
It's good that people are stepping up now. It's good that teams are being sent. It's good that money is being raised. But in January, 2011, when the only story on the evening news relating to Haiti is a one year anniversary piece, there will still be a need for teams to go, for money to be raised and for prayers to be offered. There will still be hungry orphans.
My son, one of my long-term commitment projects, taught me what that looks like when he volunteered with Americorps last year and worked with Habitat for Humanity building houses in Bay St. Louis, MS to help in the recovery effort following Hurricane Katrina. Zack had traveled down yearly with church teams immediately following the disaster and was deeply impressed with the needs of the area.
Spending a year there, he repeatedly observed how much still needed to be done, how tired everyone was of being patient through the slow recovery process and how boring the long-term commitment was compared to the first time he went down with teams. I was proud that he stuck out his year down there and glad for him to get a taste of what long-suffering and enduring sacrifice look like.
Twenty-one years of raising a son and I know my job is far from done because my mother's daughter turns forty-nine this year and mom's still committed to the process. The same kind of enduring, sacrificing, patient commitment will be needed in assisting the people of Haiti.
One of the passages I pray for my son is the same I now pray for us as we participate in the recovery of both the hurricane ravaged south and the earthquake stricken island of Haiti:
Colossians 1:10-12 "And we pray this in order that you may live a life worthy of the Lord and may please him in every way: bearing fruit in every good work, growing in the knowledge of God, being strengthened with all power according to his glorious might so that you may have great endurance and patience, and joyfully giving thanks to the Father, who has qualified you to share in the inheritance of the saints in the kingdom of light."
I believe that most of us can find the energy and strength to rise to the occasion of a crisis but the stamina and patient endurance to see a thing through the long-haul comes from the never-ending well of living water that is our Lord, Jesus Christ. He is how I've survived twenty-one years of mothering and He is how we will survive the marathon ahead of loving and assisting our brothers and sisters in Haiti.