Courage in the Face of Cool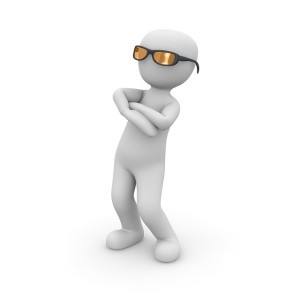 I love Blanche Gunderson.
Blanche Gunderson is my hero.
If you don't know Blanche, put "New in Town" on your Netflix queue, sit back and prepare to be schooled in living your faith.
Blanche lives in New Ulm, Minnesota. She's the office manager for a floundering factory. She wears themed sweatshirts, "crafts" in her kitchen with friends on Saturdays while her husband watches the Vikings game and drags Jesus into regular conversation.
She's plain, unassuming and someone "cool" people overlook, underestimate and take for granted.
When she meets the slick, city-girl (Rene Zelwegger) sent from Corporate to save the Minnesota "hicks," she asks her new boss during their first car ride if she's found Jesus.
"I didn't know He was lost!" Rene retorts, laughing at her own smug, clever sophistication.
Blanche is undeterred. She's not cool but she's smart and she's not lost.
By the end of the movie, she's not only shown the corporate queen what honesty, compassion and faithfulness look like, it's Blanche's humble tapioca recipe (lovingly created for her dieting husband) that saves Renee's chic behind.
That movie made Blanche Gunderson my hero.
I've lived in pursuit of "cool."
I grew up in the sixties, born into Camelot. The desire to be cool was mixed into my baby formula. Andy Griffith and the Beaver were my parent's memories. I was Taxi, Barney Miller and NYPD Blue. I was That Girl. I was John Belushi and it was always Saturday Night Live.
When I arrived at church, the party started. My generation threw out matching hats, kid gloves and suits on Sunday. We were blue jeans in the pew and guitars on the altar. We had Godspell and we made Jesus a superstar with serious electric riffs and a Broadway score. We didn't knock on doors, no way, my people pioneered friendship evangelism – how cool does that sound?
Now, though, I've met Blanche Gunderson and I'm a changed woman.
Because for Blanche, Jesus holds all the cards on cool.
She's just a simple woman in love with a great God. She shares the truth easily because she knows it's the truth and because she's not trying to guard her own image.
She's undaunted in the face of the cool kid. She's unafraid in the face of someone with better hair, lower body fat and bigger dreams.
She sees through the perfect make-up and clever comebacks and speaks directly to the hungry soul who needs Jesus (and a big bowl of tapioca).
She aware of the judgment coming back at her. She's not oblivious to the put-downs and condescension but she's bold in the Lord and keeps on coming with love, home-made cards, and dessert pudding. She's a champion for Christ.
I know she's a fictional character in a Hollywood movie but someone out there wrote Blanche into being so someone out there inspired her. I have a few Blanche's in my world and now I aspire to be one, too.
I've been courting cool all my life but Blanche showed me the error of my ways.
There's only one in-crowd I'm aiming to join and they're all Jesus lovers, unashamed to bring Him up in regular conversation like sports, news headlines, and the latest movie.
In Mark chapter 8, Jesus says this: "Then he called the crowd to him along with his disciples and said: "If anyone would come after me, he must deny himself and take up his cross and follow me. For whoever wants to save his life will lose it, but whoever loses his life for me and for the gospel will save it. What good is it for a man to gain the whole world, yet forfeit his soul? Or what can a man give in exchange for his soul? If anyone is ashamed of me and my words in this adulterous and sinful generation, the Son of Man will be ashamed of him when he comes in his Father's glory with the holy angels."
Blanche Gunderson has given me the courage to be uncool. She's spurred me on to work Jesus into more daily conversations. Why shouldn't I? I think about Him more than sports (even football), politics, and the latest vampire trilogy.
How about you? Are you ready to renounce cool?
It's a harder calling than you'd think it should be, but after all, the sixties was just a decade in history – our future is eternal.