Christians, Lighten Up, Already! Will You?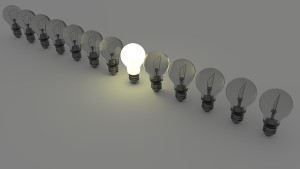 Lighten up, already, right?
Ever heard this from a relative, friend or co-worker?
Christians are so serious all the time, aren't we? I mean, is EVERYTHING a federal case? Is there a spiritual lesson in every life event from major headlines to changing the coffee filter in the morning?
Can't you just relax for five minutes? Is the devil really behind every television show? Can't you take a joke? It's Friday night, do we really have to worry about the victims of mudslides in Peru or can we just watch this movie? What's it rated? Oh, for the love of Pete. Chill, already!
I've heard this from others.
I've said these things to myself.
I find it a huge challenge – living light in a heavy world.
How do we live and move and breathe surrounded by serious struggles, spiritual warfare and souls destined for eternal damnation and not all start looking and acting like Meryl Streep as the dour-faced nun in Doubt?
I don't know but Jesus managed to do it.
Jesus – Son of God, Author of our Faith, Savior of all Mankind, so important even His pronoun is capitalized – managed to live for over thirty years on a planet inhabited by demons, surrounded by souls destined for hell, seeing with His own eyes the suffering of an oppressed people plagued by disease, corruption and pain, knowing His own agony and betrayal lay just ahead – and yet, find joy, laughter and a spirit that was so light He was a welcome guest at parties and celebrations.
If Jesus could live light in a heavy world, so can we.
The second Psalm of Ascent, Psalm 121, moves us closer to the key to see this happen. Psalm 120 was a cry of distress from a soul mired in earth's pain. In Psalm 121, the writer lifts his eyes up and cries out "Where does my help come from?" Then he answers "My help comes from the Lord, the Maker of heaven and earth."
Sometimes I live as though the world rotates on my efforts, my to-do lists, my prayers, my actions. In my desire to put feet to my faith, sometimes I hop on a spiritual treadmill – expending much effort but moving nowhere.
Psalm 121 reminds me that God is the one who does not need sleep. He is the one who watches over Israel and America and my loved ones and my to-do list and the victims of mudslides in Peru and evil television executives and me.
There was no one more active, more key, in God's plan for humanity and all of creation than Jesus Christ but He managed to laugh, to eat, to sleep, to rest, to find joy and to share it with others.
He calls us to come to Him in Matthew 11:28-30 "Come to me, all you who are weary and burdened, and I will give you rest. Take my yoke upon you and learn from me, for I am gentle and humble in heart, and you will find rest for your souls. For my yoke is easy and my burden is light."
Look in the mirror today. Do you look like you need rest? Do you look like you could use a laugh? Do you look like the photo on this blog post? Are there more worry lines than laugh lines? Go to Jesus, loved one, and ask for the lightness with which He lived in a heavy world.
Go to the Light. Live light. Be the light.
It's OK. The government (of this world, of your life) is upon HIS shoulders, not yours. Your pronouns are all lower case. Rest in the One who holds you and the entire world in His hands.