Chicken Little Christians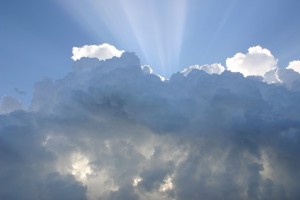 Now is the time for Christians to be
Christ-like.
When a storm assaulted His boat full of the men on whom He planned to build the church
Jesus didn't freak out or wonder if they should have taken the boat out
or whine about the rain.
He took a nap.
Knowing Jesus, I know this wasn't a show of apathy
but a model of faith and complete trust in His Heavenly Father.
Jesus' ancestor, King David,
displayed the same calm
when the armies of the Lord were confronted by a giant Philistine.
While the warriors avoided eye-contact with Goliath
and fretted about what to do
a young shepherd boy volunteered to take him on
and did
and won.
David wasn't blind to the odds,
he was open-minded and open-hearted to the wide-angle lens of a Godly perspective on the situation.
In times like these,
(which have been "times like these" for decades in other parts of the world
but are just beginning to be "times like these" on our shores)
"Chicken Littles" of the Kingdom of God run around wringing their hands, claiming that the sky is falling.
Why would anyone run into the church for shelter
if its current occupants are fretting and freaked out by the events of the day?
Of course, we feel sadness, anger, grief, and horror like everyone else
but then we pass those feelings through the heart and mind of Christ
and they emerge translated and transformed by faith
into witness and words of courage and faith.
I charge you now, loved ones, as a fellow "fretter": these are not the times for Chicken Little Christians.
These are the days of Elijah.
And David.
And Paul.
We have a tremendous opportunity to share the truth with a boldness unprecedented in modern times.
We don't need to pussyfoot around the truth in times like these. People are aching for it.
We can stand on the battlefield against every Goliath the Philistines send and say "I stand this ground in the name of the One True God, Jesus Christ."
We can call out every priest of Baal and dare them to have their god or their non-god set fire to the altar and know that we serve the One True God who is a consuming fire.
We can stand in the marketplace like Paul and use the very reasoning of the culture to which we speak to proclaim the truth that Jesus Christ is the One True God.
There is a God. He is the God of the Bible. He knows about these times and He will see anyone through them who makes Him their refuge.
The God of the Bible knew these days were coming and knows these days are here and He has not changed.
David met Goliath with five smooth stones. Followers of Christ are living stones.
Elijah faced down the prophets of Baal by calling down fire from God. Followers of Christ have received the fire of the Holy Spirit ushered in on the day of Pentecost.
John lived while the men who shared that boatride with him were martyred one by one, while he was exiled to the hard rock life of Patmos, but he kept his eyes on Christ to the end.


In times like these,
people need to hear the truth.
The truth is that the times are terrible
and they are going to get worse.
The companion truth is that Jesus Christ is GOD WITH US
and we will not be afraid.
We worship the light and the darkness will not overcome the light.
These are the days of Elijah.
There is no God like Jehovah.
He is the God of every age and this is the age He designed for those of us who are here.
He chose this for time for us.
Perhaps this is the time for American believers
to reach out to our Haitian brothers and sisters
and ask them to teach us how to endure
uncertainty, grief, loss, suffering
or Asian believers or Israeli or Arab believers
or African brothers and sisters.
They have lessons to teach those of us who are new to these times.
In Psalm 37, God gives us this command: "do not fret when people succeed in their ways, when they carry out their wicked schemes. Refrain from anger and turn from wrath; do not fret—it leads only to evil." (and stupid Facebook posts)
In other words,
don't be Chicken Little Christians.
Be honest.
Be vulnerable.
But speak words of faith, courage, and light in the face of darkness
or if you cannot,
then remain silent
and listen to those who can.
Reach out to brothers and sisters in other places who have endured already,
who know suffering and have exercised faith
and learn from them.
These are the days of Elijah.
God is here.
If you can't point others to Him,
at least move out of the way,
so they can find Him themselves.