Cars in Cradles – What Makes Us Male or Female and Why Does It Matter to God?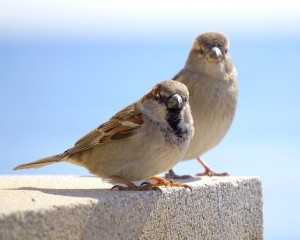 As brave as I am to tackle some subjects, there is one that I avoid like an appointment for a root canal: the subject of gender and gender roles.
This morning, the Huffington Post published the photo attached to this blog with the explanation that a mom had given her little girl both cars and dolls with which to play and this was the result.
It reminded me that when my children were young, sometimes my son would play with my daughter with her dollhouse but it always resulted in something they called "babies gone wild" where the baby dolls would act like an army of commandos and take over as they searched the dollhouse for spies. This, of course, required mass destruction of the orderly, pink, and white plastic home.
Having been born in 1961 into a traditional family and grown up through the ensuing decades, the question of gender roles could easily be the one that defines the age in which I've lived.
My father went to work and my mother cared for our home through my early childhood but as I enter my fifties, the world is a different place from those distant Camelot days. Just this past Wednesday as my adult son completed paperwork to receive urgent care at the health center where I work, he pointed to the form and asked, "Since when do I get four choices for gender?" Sure enough, there are now four choices on the form, two referencing transgendered patients.
Embedded in my memory is, not a full home-movie, but a vivid snapshot. My father was out of work for a brief period due to an injury. I have no memory of that at all except that one day, I arrived home from school and, on the kitchen counter, was a paperback book titled, "The House Husband" that someone had given him as a joke. It was torn in two.
I hadn't even witnessed the actual destruction of the book but its torn carcass sent a clear message that I think underlined the frustration of many men like my father who were born in the forties and felt the changes of the sixties like a backhand to the face of everything they were raised to expect from life and relationships.
My mother, however, was freed by much of what happened culturally during the same time period, to be the smart, capable, amazing woman God intended her to become. The snapshot of that torn paperback still represents the change in life that happened somewhere between my childhood and my adolescence when gender and gender roles became a battleground.
Now, both of my parents are in their seventies. They are comfortable with where they've landed. My father is a progressive fire chief supporting the women firefighters in his department as readily as the men. My mother prefers working full-time to staying home but she loves to cook and sew, as well.
I was often tossed about in the wake of their decades' long journey to reach this place of peace as I wrestled with my own version of it as an evangelical woman with the gift of teaching. For my children, the questions of the age are less about gender roles and more about actual gender assignments and sexual orientation. New fuel for an old fire.
As I attended a recent training on caring for transgendered clients, my mind filled with a question I couldn't ask in that setting. If gender is so fluid and so relative, how does one know that he or she feels like "the opposite gender?"
I certainly believe in equality of the sexes but if we are so distinct from one another that some people know they've been born the wrong sex and ask to be reassigned, what marks that distinction? What is at the heart of gender? What makes a person male or female?
I detest the colors pink and purple. I'm fascinated by medieval weapons, by battle strategies, and politics. I read sci-fi and fantasy and would have to be forced to peruse Amish fiction or romance. I have zero desire to sew, garden, or drink tea. But I was thrilled to be a stay-at-home mom for the years it took to raise and homeschool my children and gladly took on a traditional role at home. I believe that men and women have different roles at home and in the life of the church and I see no conflict with believing that and also believing men and women are equal. I have no question that I am female.
As a fiction writer, I make decisions for my characters all the time. Somehow I know how my female characters would react differently than my male characters. Where does that come from and what consistencies are there across ethnic and cultural lines?
I believe the question of gender is vital because something about gender itself reflects the image of God. This is why we can't get away from it. This is why the enemy tries to twist it. This is why it's still so important to discuss it.
In Genesis 1:27 ESV, it is written: "So God created man in his own image, in the image of God he created him; male and female he created them."
We were created with distinctions that, at their essence, reveal the very image of God. What is at the heart of that image and how we do discuss it and excavate it without destroying one another over it?
I may find the courage to write about this in the coming days but I'm interested in your thoughts. What do you believe is at the heart of gender? What are clear distinctions between male and female that go deeper than the obvious visible plumbing? What, inside you, makes you male or female?
For you writers, how do you know how your male characters will react as opposed to your female? Are your fictional characters acting in ways that are more or less traditional than the world around you? Why?
What struggles or questions have you had about gender and gender roles? What about as you've raised your children – what questions have arisen and why?
I'm not sure I have the courage to even write about this topic so I'm wondering if you're asking questions too, and if so, what are they? Where have you been hurt around this subject and what has helped you heal? What is distinctly male and what is female and why is it so important?
Link to photo and article at Huffington Post: http://www.huffingtonpost.com/2012/07/05/gender-stereotyped-toys-p_n_1652081.html?fb_action_ids=4346599229673&fb_action_types=news.reads&fb_source=other_multiline