Bullied in the Name of Jesus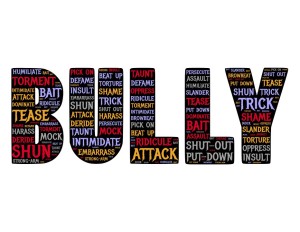 Have you ever been bullied in the name of Jesus?
I have.
I remember each one of them. Like a full offensive guard scowling at me from across the 50-yard line.
They didn't know one another and they were separated by years and even denominations, but they were a united team.
They were bullies for Jesus.
I still can't sing "I Have Decided to Follow Jesus" because one Sunday night after I'd filled in as song leader, a church leader came to me with rage in his eyes. I was twenty.
"Do you have any idea the heresy you've unleashed in this church! Is it your intent to be a daughter of Jezebel?" He growled at me.
Um. No. I mean. What? I was just the only person here tonight who can play guitar.
"No one decides to follow Jesus. It is only by grace and His choosing that worms like you and I are allowed into the kingdom. Don't EVER choose that song again."
Those words were my introduction to Calvinism and the concept of election. I have a better understanding now of what happened in that moment but thirty-one years later I still can't sing that song without feeling his anger and the fear that I might be a heretic.
There must be a better way to introduce a young believer to Theology 101.
Then there was the elderly gentleman who stood behind me every week after church and put his hands on my shoulders for a long moment. One morning, he pulled his hands away in disgust. "You must not WANT to be healed!"
Excuse me? What?
"Every week for five weeks I've laid hands on you and prayed for you to be healed from lupus but you're not healed. I believe that's a sign that you WANT to stay sick. I don't want anything to do with someone who has agreed with their illness." With that, he stalked off.
Um, what?
It was like a drive-by faith healing gone awry. I felt guilty for months that somehow I not only had lupus but now I was responsible for it. (I was healed from lupus 19 years ago but that's another story.)
There were plenty of women in this offensive bully line-up. Women bullies for Jesus usually use a more subtle approach.
I have often been invited over for tea before being clubbed by a woman bully.
"Some of us have been talking and we think your marriage may be in trouble because you aren't home enough."
Huh. Have you noticed that my husband is on the road for work eight-to-ten weeks at a time? That does strain things but you think the problem is that I'm not home enough?
"Yes, we think you should not do so many church ministries and stay home more."
I'm all ready a stay-at-home mom and, as I said, my husband is on the road – all the time.
Sip of tea. Smile. "Still, that's what we think. If you're not open to what the Holy Spirit has to say, I guess we were right that there are deeper issues."
Is this the Holy Spirit or is this because I don't always agree with your friend about the direction for worship team?
"Well, I can't even continue this conversation if you're unwilling to have the mind of Christ about it."
Okay, then. Thanks for the tea.
That conversation and a dozen more that followed left me with a worship-team phobia. That wound is still waiting to heal. I haven't done much song-leading since.
There are well-intentioned bullies. People just zealous for the truth as they understand it, committed to defending God. And they're just clumsy about carrying out what they truly believe they should be doing.
Many are products of bullying themselves.
Knowing that keeps me watching my own mouth, heart, and mind when dealing with others.
Don't get me wrong. Straight truth and straight talk are often called for and Jesus spared no words when calling a Pharisee a Pharisee.
But words can be stones with incredible power to damage, wound, cripple.
And too often, people aren't bullying for any well-intentioned reasons but out of fear, insecurity, a desire for power and control, and from a place of ignorance.
Brutalized sheep aren't healthy sheep.
Sheep scare easily.
A sheep can die from a sudden fright.
Many do.
The side of the narrow road is littered with the bodies.
James offered us a beautiful command in this: " My dear brothers and sisters, take note of this: Everyone should be quick to listen, slow to speak and slow to become angry, because human anger does not produce the righteousness that God desires." James 1:19-20
Quick to listen. This is a constructive command that when obeyed, reaps amazing rewards.
James 1:19-20 is a weapon in the war for souls. Do you use it?
Another weapon we're too quick to discard is meekness. Jesus was meek. The king of the universe – meek.
Meek doesn't look like much but Jesus had it in his arsenal. This is another underutilized  weapon in our battle. It's hard to practice meekness and maintain bully status.
Bullying is not the way of Jesus but it happens in the church – often.
I love the church. I won't walk away from it but I carry scars from people who've bullied me in Jesus' name.
If you've been bullied, bring your wounds to Jesus. Don't fall off from following Him because of a misguided believer.
And watch that you don't carry on the pattern! Consider prayerfully that you may be a bully for Jesus, loved one.
You don't intend to be one, but maybe you've been one without realizing it. Jesus can show you a new way to operate with others.
He'll teach you that getting your way is not as important as living His Way.
Where have you found healing from church bullying? Did you ever bully someone else before finding a new way?
Share your story. Let's heal together. In Jesus' name.