Better Beheaded than Behearted – the Real Danger of These Times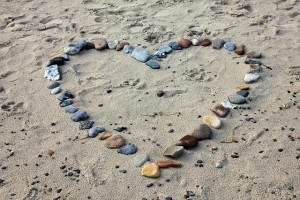 I was shocked last night by the national news.
I was shocked, not by the content, but by the prioritized order of the headlines. The lead story was, of course, a serious one. Ebola has arrived in the United States and now an NBC news cameraman from Rhode Island has contracted Ebola. Of course this is news and worthy of a top headline.
The story that followed, however, was another ISIS beheading of an aid worker from the UK. It received only a minute or so of coverage and the anchor was matter-of-fact about with his delivery.
That's what shocked me. In less than six weeks, terrorist beheadings have sunk in the headlines and no longer cause news anchors to stumble in their delivery.
And that's how it works, isn't it?
De-sensitization. That's the word for it. In psychological terms it means: the diminished emotional responsiveness to a negative or aversive stimulus after repeated exposure to it."
Humans are hard-wired to adapt – even to that which should repel us. In brutal times, this can be a powerful coping mechanism enabling some to survive what otherwise might destroy them but it's also the reason, I believe, the Biblical writers predicted that for many of us, our love would grow cold as we hurtle toward Christ's return.
"And because lawlessness will be increased, the love of many will grow cold." Matthew 24:12
Just as medical personnel triage casualties in times of war, so each of us performs a type of emotional triage in order to survive the times in which we live. I'm sure those behind the scenes of the national news triaged Ebola over beheading because the Ebola victim was an American and the beheading victim was from the UK. Connection triage.
We do it ourselves every day.
Thousands of men, women, and children have succumbed to Ebola on the African continent in this outbreak. We've noted it but haven't allotted it significant emotional energy because, well, it's very far away and the numbers out of Africa are always large, aren't they? They die in droves on that continent from war, hunger, famine, and disease. If you look at many of our hearts, there's a well-developed callous over the section labeled "compassion for Africa."
My defense line against this is the local African nationals I love. Several worshipers from my church hail from Nigeria. Many of their family and friends remain there. When I hear the headlines, I don't picture a faceless continent, I picture the loved ones of my church family. This fuels my prayers for people I don't know and whose lives are so distant from my own. We need to fight against the oncoming cold that threatens all of our hearts. This is one way I wage war against my own petrification.
The cameraman with Ebola is American. We have photos of him, interviews with his loved ones, and a story attached to his condition. He is one. That's a number that gets past the gatekeeper of our compassion stores. He is also "one of us." This whisks him on a media-driven gurney into our hearts with sirens blaring and lights flashing, where every victim deserves to be.
It's so complicated, this whole idea of loving the world the way God does. Who can do it? Five minutes after the headlines, we've moved on. Or, we're writing editorials judging the victims in order to push back the pain.
When missionaries were afflicted with Ebola, there was an outcry demanding to know what God would send them into that kind of risk. But the gods of media, the gods of journalism, the gods of the publics' right to know haven't batted an eyelash when one of their own is downed. In fact, last night they did a complement piece on the safety procedures the remaining journalists utilize to prevent the contamination it didn't prevent in their coworker.
Why do we accept that journalists must be on the frontlines of danger but the ministers of God have no business there? Christians imprisoned for bringing Bibles to North Korea are condemned while those captured trying to get photos and a story are hailed as heroes. And meanwhile, a man is savagely beheaded before our eyes and it's not the lead story.
Why am I writing about this today? Because, loved ones, we have to guard our hearts in these times. I hear many Christians working overtime to guard their eyes but it is our hearts that are in danger.
And by instructing us to guard our hearts, I believe God meant the opposite of building walls around them. A heart that is walled in, untouched, hard, unfeeling, impervious to pain – this is not a heart, this is a stone. God promises to replace our hearts of stone with hearts of flesh. This makes for soft, bleeding hearts but there you have it, God's will for us: even in these hard times – we shall not grow hard.
How does a soft, open-hearted, bleeding flesh heart survive these times? Only by the power of Jesus. Go to Him often. Pray. Read His word. Pray with others who love Him. Abide in Him. Make Him your heart's home. Erecting walls around your heart is self-protection. Not only is that a poor substitute for a life hidden in Christ, it's sin. Loving the world is hard, demanding work – physically, mentally, and emotionally. But it's the work to which we've been called.
Next time you're tempted to harden your heart, think about the hard work Christ puts in to love us. You think it's easy to love millions of people who can hear about their dying neighbors and flip the channel to Wheel of Fortune without even a prayer of intercession? Better a body beheaded than a soul behearted, loved ones.
Invite Jesus to guard your heart while you are about the work of loving the world the way He does.  How do you work with the Lord to maintain a heart of flesh in a world that requires hearts of stone?
**Please note, this post was written by a Jesus-follower who believes it is possible to continue to love others in a hard-hearted world, not because of experience or ease but because God's word says it is possible through Christ. It's fine to take breaks from watching the news but it's never okay to escape the responsibility we have of loving others through intercession, speaking out, and practical acts of mercy and compassion. I believe we need to share our strategies for keeping our hearts aflame because of the danger we've been warned against that we will be tempted to let our love grow cold. Encourage one another here, loved ones. Let's build a roaring fire around which to keep warm in Jesus.
If you'd like to help spread the word about the book, you can forward your email to friends,  share the announcement on Facebook, or Tweet about it with this: Jerry B. Jenkins endorses upcoming book by first-time author! Running from a Crazy Man releases 12/14 http://wp.me/P4y0mC-Y #JerryBJenkins
Thank you, all, for your faithful support. It spurs me on to strive to write my best for the Lord.