A Prayer for Ukraine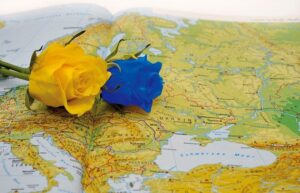 Oh dear Father, we cannot bear the news, the pleas, the suffering of our brothers and sisters in the Ukraine, nor the isolation and bondage of the citizens of Russia.
We cry out to you with one voice to put an end to this war, to free everyone in the path of Putin's destructive plan, and to release the resources necessary for Ukraine to prevail against its enemy.
Strengthen the hearts of the young men and women defending their homes, their families, their freedom. Turn the hearts of the soldiers coming against them to lay down their arms, to sabotage their own forward progression, and protect their families from retribution from this tyrant.
We know "we do not wrestle against flesh and blood but against the rulers, against the authorities, against the cosmic powers over this present darkness, against the spiritual forces of evil in the heavenly places." In Jesus' name, we ask that You bind these spirits and render them impotent in this fight.
Infuse our leaders with courage, wisdom, and determination to defend us all against evil leaders who would hold the global community hostage in pursuit of their own ends.
Hold the children of the Ukraine, the elderly, those who are sick or impaired, in Your tender hands and defend them now against the powers of darkness invading their land.
Embolden the church in Ukraine, in Russia, and around the world to proclaim Your truth, to spread Your light, and to call on Your name. Move on behalf of your people, in Jesus' name. Amen.
A Prayer for Ukraine https://t.co/Dzi9ZUI5bj #UkraineUnderAttaсk #Jesus

— Lori Roeleveld (@lorisroeleveld) March 5, 2022